Photograph taken from rear bedroom window of 37, Barnard Crescent, Hebburn.
Wooden Bridge ahead, in between tall trees. Metro line at right, behind bushes.
THE CORNFIELDS:
Accessed via Hedgeley Road. These houses back onto the Metro line.
103 residential homes (Nos. 1-121) - 11 of them built in 1992.
Once owned by the Pyrotenax, and used as a football pitch in the 50s.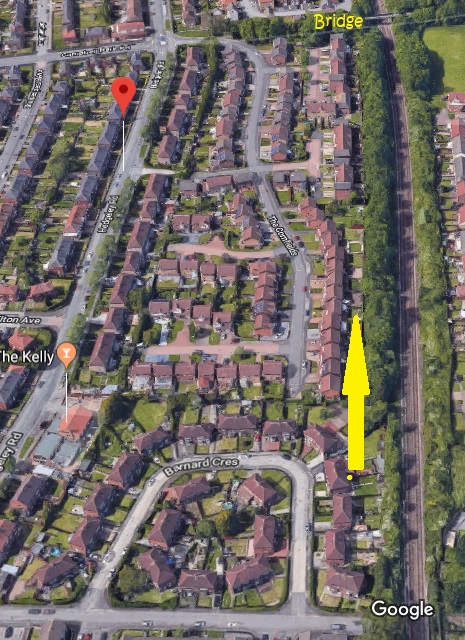 Photographer taken from 37, Barnard Crescent (yellow dot).
In 1850, the west part of The Cornfields was 'Forth Long Field', an arable field, and the east side was part of 'The Lane Field', also an arable field, both occupied by John Redhead, and leased from landowner Cuthbert Ellison.
Named after:
The Cornfields that were there before the estate was built.
Fairground:
The fair workers would enter this cornfield via the gates near the Kelly pub, and set up their rides, etc., at the rear of Barnard Crescent. They'd often stay a few weeks.
Cheers,
Barry.