Streets of Hebburn ~ Red House Road…
Posted by barrycram@hotmail.co.uk on July 1, 2018, 6:50 am
RED HOUSE ROAD: Vehicular access via Cambridge Avenue (on the west), and Oxford Crescent (on the north); then - on the north side of Red House Road - it runs past Jervis Street, Frobisher Street, Howe Street, Collingwood Street and Northbourne Road (Jarrow), which are all pedestrianised at this side. The south side of Red House Road used to be Baker Perkins.
46 residential homes - 32 flats: (Nos. 1-103) - 4 built in 1924.
Named after: Red House Farm.
Red House Farm: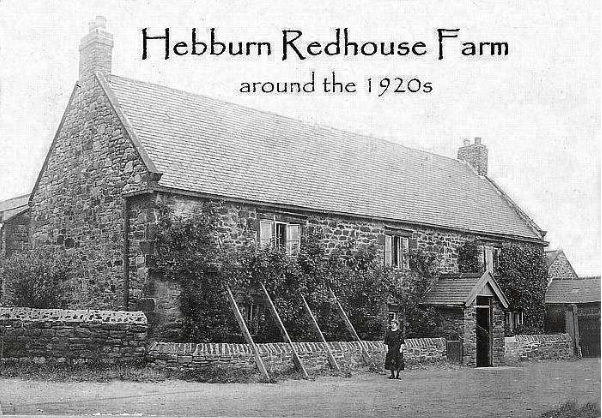 Red House Road:

Photograph courtesy of Norman Dunn: http://www.oldtyneside.co.uk/
Any old photographs you could share would be very welcome, thank you. Please contact norman@dunn247.co.uk

BEDEWELL INDUSTRIAL PARK:
Built during WWII on land previously occupied by the Slag Heap: A hill formed by the slag from the Palmer Blast furnaces. Commissioned by the Ministry of Supply and Aircraft Production, to build bombs, and known as the 'Bomb Factory'; many locals were employed there.
After the war, in 1946, the building was taken over by the Peterborough Company, Baker Perkins -
metal fabricators, who started the Hebburn site off making aircraft parts, and also factory
machinery, like laundry presses and ovens.
The factory closed in 1999, and was made into separate units in 2004.
The former industrial site is to be transformed into a new housing estate with 335 homes, which will be known as Bedewell Court. The application was first submitted in June 2015. The majority of the new development, which will also contain some social housing, will be served by a single vehicle access road from Adair Way, with limited direct access to homes from Red House Road and Cambridge Avenue.
Named after: A connection to St. Bede and the nearby Bede's Well.

JARROW TUBE WORKS: Opened about 1938, to make metal tubes. It closed about 1975.


---