Rikishi's music fills the entire area as he makes his way out from backstage. He stands proudly with the world title over his shoulder.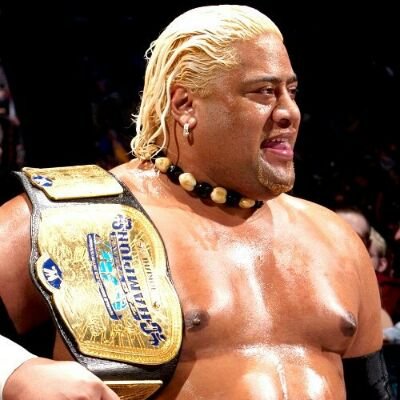 Rikishi: "I am now the champion of IWF!!!!"
The crowd bursts with excitement as Rikishi slowly makes his way down to the ring. He flashes a few smiles toward the crowd.
Rikishi: "This big ole butt is currently top dog here!"
Rikishi slides into the ring and stands in the middle.
Rikishi: "I'm looking forward to tonight's match, after all I'm partnered up with RVD and Super Crazy. Not to mention I take on Kenny before we even make it to Summerslam.
Rikishi takes a moment to gather his thoughts.
Rikishi: "Kenny thinks he's gonna get me with a one winged angel. Don't make me laugh. The only thing that's a guarantee is that you're getting my ass all up on your face Kenny."
Rikishi laughs for a moment, pauses for a second, then starts smiling again.
Rikishi: "Wait, not just Omega. My ass is big enough for all three of them. To the fans watching tonight's match. You're not going to just be seeing one stinkface, rather you get the honor of seeing three!"
Rikishi slides out of the ring and heads up to the entrance.
Rikishi: "Tonight I'm backing this ass up on Omega and The Young Bucks."
Rikishi raises the world title into the air, and slaps his massive butt cheeks as he heads backstage.