Yesterday, Norman
(Dunn)
posted the following:
Hebburn Colliery Auction Sale from 1862
Where was this house… and where did Miss Thompson get her wealth from when everyone was poor?
MONDAY, JULY 28, 1862 at One o'clock in the Afternoon precisely
MR NEILSON is instructed by the Executors of Miss Thompson to SELL BY AUCTION, at her late Residence at HEBBURN COLLIERY, on the above Date, the whole of the valuable HOUSEHOLD FURNITURE and other EFFECTS, compromising Mahogany Dining, Loo, Card, Pemborke, and other Tables; Mahogany Sofa and Couch, both in Hair Seating; Pair of easy Chairs, in Patent Leather, by Tweedy; other Easy Chairs; Three Sets of Mahogany Chairs, in Hair Seating, Six each; other Mahogany chairs; Mahogany Bookcase, & c.; Spanish Mahogany Bookcase; Square Piano-Forte, in Mahogany Case; Music Stool; Mahogany Secretary and Drawers. The Bed Rooms contain Four-post, Mahogany, and other Bedsteads, with Dimity Hangings; Prime Feather Beds; Double and Lobby Chests of Drawers; Wardrobe, Mahogany; several Mahogany Dressing Glasses; Washstands; Dressing Tables;Toilet Ware; Bedroom Chairs; Night Commode, &c., &c. The usual Kitchen Furniture and Requisites, including a Mangle and Excellent Eight Day Clock. Miscellaneous Goods:- Carpets, several Kidderminster, Hearth rugs; Fender and Irons; Chimney Mirrors; Cornices and Window hangings, Colza and other lamps; Ware; Glass; China; Cutlery; Ornaments; Pictures; Books, &c., &c.
The Goods may be Viewed on the Saturday before the Sale, from Ten to Four O'clock, and on the morning of the Sale till Twelve.
The Red Star Line of Steamers has a landing in front of The House.
The Sale will commence on the Arrival of the 12 O'clock steamer from Newcastle.
Gateshead Sale Offices, 1862"
I did some Online research and found the following:
NEWCASTLE JOURNAL, 7 JUL 1862:
Death at Whitley on the 3rd July aged 63, Miss Mary Thompson of Hebburn Colliery.
This would make Miss Thompson born about 1799.
DEATH REGISTER:
TYNEMOUTH: September Quarter 1862, aged 63, Mary Thompson.
WILL: 28 MAY 1863:
Mary Thompson late of Hebburn in the county of Durham Spinster deceased who died 3 Jul 1862 at Whitley in the County of Northumberland was proved at Durham by oaths of Thomas Easton [Barrister] of Nest House in the Parish of Heworth in the said County of Durham Coalowner [Hebburn Colliery] and James Easton [Colliery Viewer] of Nest House aforesaid Coalowner [Hebburn Colliery] the Executors.
Effects under £3,000
I checked the maps for Hebburn Colliery: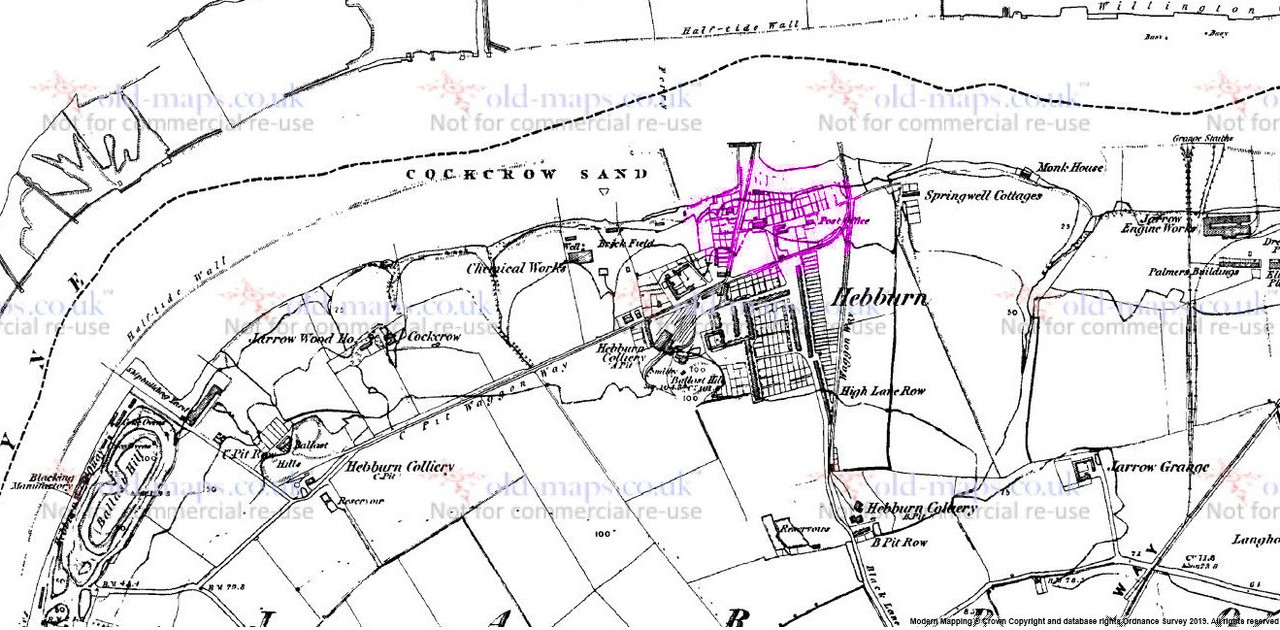 The auction ad claimed that 'The Red Star Line of Steamers has a landing in front of The House'.
As you can see there is a jetty directly in front of the Waterside Houses
(highlighted in purple)
at Hebburn Colliery, so, I looked at the Waterside houses for a Miss Thompson, on the Censuses, and, lo and behold, found the following:
In 1861, a 35-year-old Miss Mary Thompson
[b. about 1816]
was living at Waterside House, Hebburn Colliery - occupation: Grocer. Being a shop owner might have made her quite wealthy, especially being in that location, with all the ferry traffic from the steamers on her doorstep.
But, as you've probably noticed, these 2 ladies named Mary Thompson, do not have the same birth dates – they're out by about 17 years: one born about 1799 and the other born about 1816.
Did Mary later reduce her age substantially to seem younger, or, are these 2 different persons? Mary Thompson isn't the easiest name to trace that's if it's the correct one, as there are so many of them. A death certificate or search of the library archives would be needed to finalise this puzzle.
Cheers,
Barry.
P. S. The grandkids are on their school holidays and with us most days, which has delayed my reply.