Hello Don,
Thank you for the pic and the nice feedback – much appreciated. As Norman, said, that's another piece of a puzzle sorted.
As the land that housed Cock Crow Hall is now lying empty, and, as you say, 'was almost hallowed-like', I cannot help but think that that it was/is leased – tenants tend to treat rented property with respect.
Another possible reason
'Palmers were treating those buildings as if they were standing on hallowed ground'
, could be that they were occupied by Foremen from the shipyard – and as my dad said, the foremen were like gods:
In 1911, Cock Crow Hall was 2 tenements and living there were:
1. Joseph Ure, aged 42, Shipwright Foreman at Shipyard, and 5 others.
2. Isaac Spoors, aged 42, Engineer Foreman at Shipyard, and 3 others.
Don, here is your photo, alongside a map, angled to show comparison.
The green dot signifies the location of a Shipyard building, solely for comparison reasons.
Also, note the chimney
(Chy.)
in both images: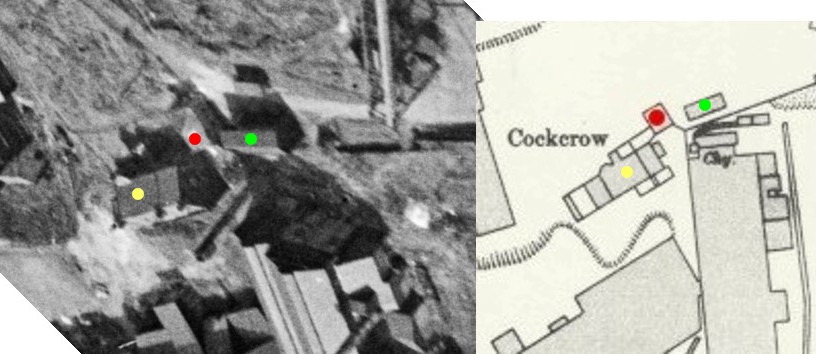 I now feel strongly that the mapmakers were correct, and that the names shown on the maps is exactly what they were at the time drawn up:
In 1841 the land in question only contained Jarrow Wood House: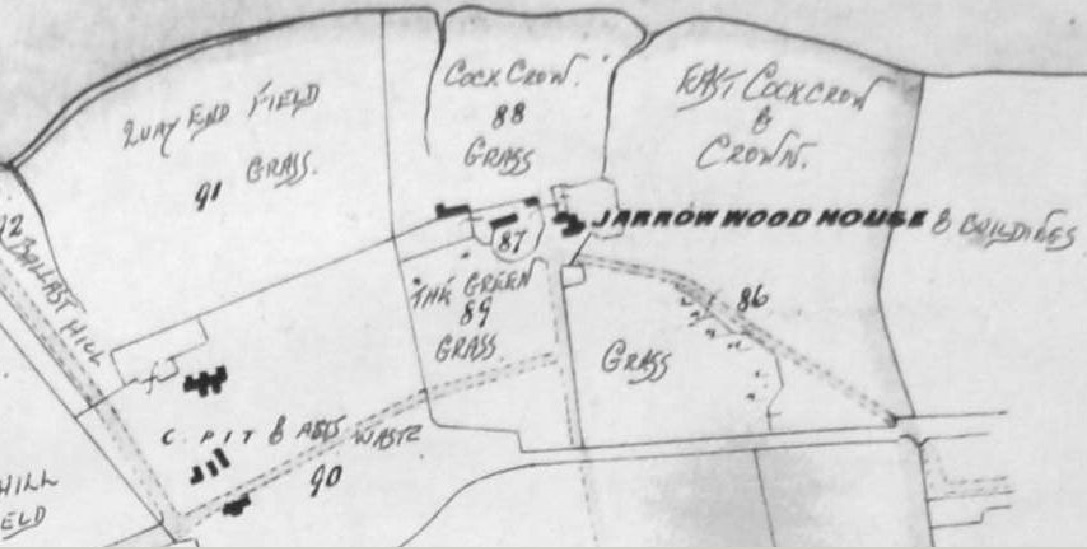 By 1862, Jarrow Wood House had become two properties: Jarrow Wood House and Cockcrow: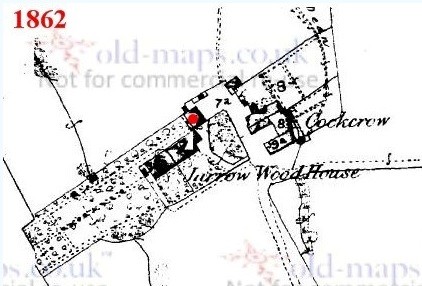 On the 1881 Census, both Jarrow Wood House and Cockcrow are still shown as separate properties.
By the 1891 Census, the area had become known as Cock Crow, and the name Jarrow Wood Hose had disappeared.
By 1897, the east property of Cock Crow Hall had gone: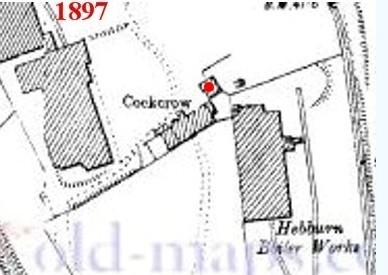 Cheers,
Barry.