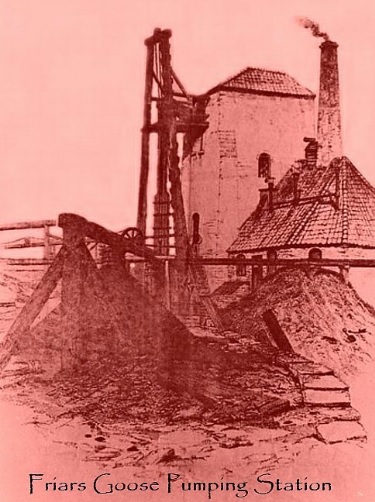 Friars Goose Pumping Station, from Norman Dunnís 'Coalmining in our area':
https://drive.google.com/file/d/12WRhcc5dYeQVYF6dIWBZ6MuaESBbaxwk/view
Hebburn Collieries always had problems with water entering the Pit and it was made worse in the early 1800's by other Collieries along the Tyne. To make money more quickly, some pits did not fill the voids after the coal was extracted. The roof would then eventually drop & subsidence allowed Tyne water into the seams. Even though it may not have been Hebburn Colliery's fault the other pits were mining the same seams, so water infiltrated via them. In the 1830's the owners of Hebburn Colliery, Thomas Easton & Co. decided to erect a pumping station at 'Friars Goose' beside the Tyne at Felling. This had three sets of pumping engines in constant use to keep the workings free of floods.
Other Mine owners paid towards this pumping operation that also kept their Pits free of flooding, but in 1850 they disputed having to pay towards this pumping, so the pumps were stopped & Wallsend & Hebburn Pits were flooded. Hebburn stayed flooded from 1859 to 1870. A new Company 'The Tyne Coal Co' took over Hebburn Colliery in 1863 to drain the water & by 1870 it was drained as far as the 'Low Main' seam at 1020ft. This cost the company dearly because they closed down. A new company took over called 'Wallsend & Hebburn Coal Co' & by the 1890's employed over 1300 men & boys. During the lifetime of Hebburn pit at least 200 men had been killed.
By the early 1900's Wallsend pit had serious water & gas problems and had to sink a new shaft. The costs eventually crippled the company & in 1931 Hebburn pit closed. Wardley also had lots of water to remove from the mine each day & had modern electric powered 'Mackley' multistage centrifugal pumps to do this task with. Hundreds of smaller pumps situated all around the mine workings pumped water into various 'Standages' then onto 'Sumps' where during the nightshift these Centrifugal Pumps were started up at the Hutton level near the Shaft. These 'Mackley's' pumped 3000 gallons every minute & ran all night on cheaper electricity - 3000 gals per min x 480 minutes is 1,440,000 gals.
Previous to these modern centrifugal pumps, Wardley had used an old pump house at the Hutton level that was still there but unused. In this pump house were massive Victorian cast iron Ram Pumps probably dating back to the 1850's. These were still there in the 60's because they were probably too big & too expensive to remove. These pumps will still be there to this day, 1000 ft underground & underwater forever because Wardley closed in the 1970's. Everything that I have written regarding Wardley Colliery is what I remembered after just a short five-year career there. Many men worked lifetimes at these collieries & could probably write books about their experiences.