Hello Ken,
The following 2 websites hold information that explains where the Old Methodist Chapel used to be, in Bill Quay:
http://www.geocities.ws/gandj_methodist_circuitheritage/bqwm.html
http://www.tyneandweararchives.org.uk/DServe2/dserve.exe?dsqIni=Dserve.ini&dsqApp=Archive&dsqCmd=Show.tcl&dsqDb=Catalog&dsqPos=0&dsqSearch=
(RefNo=%27c.fe3%27)
The Bottle House Chapel belonged to the works and these declined and then closed in 1866.
The Bill Quay congregation needed a new chapel anyway. A site was selected higher up the village at Swinburne Terrace and the members set themselves the task of building the new chapel. The new chapel and school room was erected at a cost of £1,300 and opened in 1869.
Building the new chapel, unfortunately, also resulted in the indirect deaths of four local people and injuries to four more. On Saturday 24th October 1868 a gale, which had affected the whole of the country, caused part of the building to collapse.
The new chapel - with seating for 450 people (images below) cost £1,300 to build and was eventually opened 15th August 1869: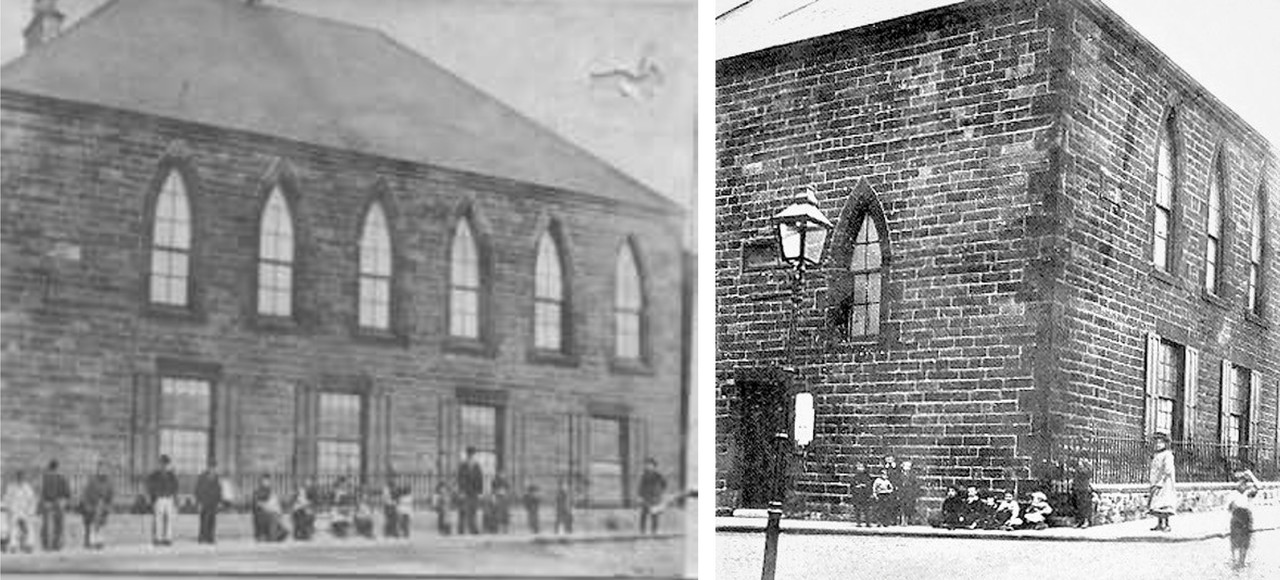 The Swinburne Terrace chapel continued to be used but in 1906 the congregation gathered to discuss its future. Repairs to the building would cost £148 or they could move into the Lecture Hall, suitably converted, for £50. On 10th March 1907 the Swinburne Terrace Chapel was used for the last time. The building was closed in 1908 then leased to Victor S Jefferson from 1st September 1909 at £20 per year, who converted the upstairs into a cinema with a billiard room where the Sunday School had previously been held. Initially, the cinema was known as the Imperial Picture Hall (September 1909) and by 1913 as the Crown. It closed as a cinema in 1930; became a Civil Defense Store then, following partial demolition, was used as a static water tank in WWII. Following the war,
[post 1945]
the remains of the building were demolished.
Swinburne Terrace:

Note the crosses in each map, showing where the Methodist chapel used to be in Swinburne Terrace:

Red dot indicates where Chapel is on maps:
Note: the article mentions that the building was renovated before demolished:

Cheers,
Barry.