Hello Mac,
Here is proof that the letter 'j' was sometimes used in place of the number 1:
Searching Online, I found this rubbing of an inscription of a bell in Belfast, which reads: WMP Wightman made me 1686: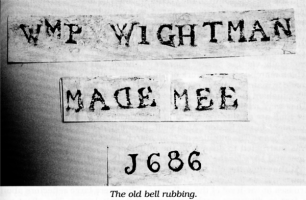 Courtesy:
http://lisburn.com/books/drumbeg/drumbeg2.html
In the mid-17th-century the old Hebburn 14th-centuryTower House was replaced with a new manor house, and at the time of his baptism, in 1665, Robert Ellison lived at this manor house.
Twenty-one was the coming of age, so it is possible that you could be correct that the plaque signifies the 21st birthday of Robert Ellison, his coming of age in 1686, and I'd love that to be so… but, it niggles me, because I would expect that there would have been a more detailed explanation on the stone, whereas a plain stone in a vicarage wall would be self-explanatory, that the vicarage was built in 1686 by R. E.
Mac, I think what you might be saying is that the stone was a private thing, hence no need for elaboration, as the family knew what it meant and outsiders didn't need to, but the case is still open.
In 1790, Henry Ellison rebuilt the property into a three-storey, nine-bay mansion house.
Cheers,
Barry.
P. S. At one point I even thought that R. E. might have signified 'Reformed Episcopal'.