Hello Eddy
(Nesbitt)
,
The school Street flats were built on land in the Colliery, and new houses are now built on that site, as shown in the map below.
The Argyle Street flats
(yellow box)
previously housed the Quay Board School, and flats - from west to east: Maxton Court and Shinwell Court, which overlooked Caledonian Street and the Quay School; then Summerskill Court, and Morrison Court, which reached down to the railway, almost touching the present Walsh Avenue. These flats were built on land previously occupied by - west to east: McIntyre Street, Hedley Street, Dunston Street, Edmund Street, Philip Street and Whiteburn Street and were leased from landowner Cuthbert Ellison.
The size and weight of the Argyle Street flats seems to discount the theory that that land is unsafe or prone to subsidence, though, the land with the red box on it is a different story.
I searched The Coal Authority website, and it clearly shows that there are no signs of geological disturbance in the area inside the yellow box, though the area near the red box, on School Street playing field, has had geological disturbance, as that is where the 'A' Pit stood, and many locals will remember the large hole that appeared in the field near to the Brancepeth Road Nursery School
(green box)
. So, I agree with Stan, and suppose there's no chance of anything being built on that.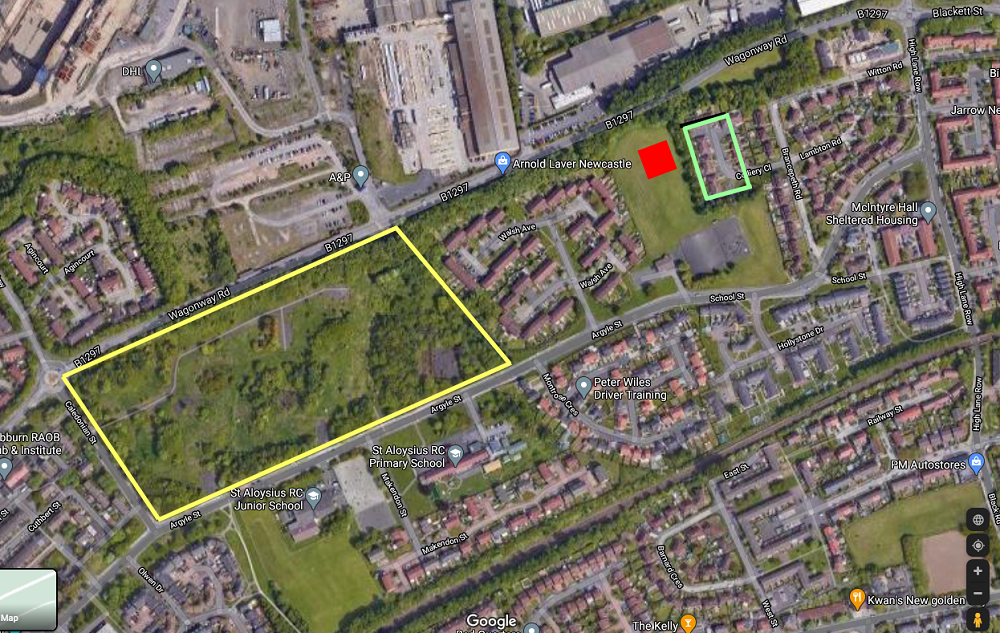 The 1850 tithe map of Hebburn shows that most of Hebburn was owned and leased by Cuthbert Ellison. Much of Hebburn Colliery was owned by the Wallsend & Hebburn Coal Company, and a tract of land along the river up to Tennant's Alkali Works, was owned by Durham Cathedral.
Cheers,
Barry.