Hello Allan,
I'm extending this message so it will also be helpful to folk not familiar with Google Maps.
The browser named 'Bing' doesn't allow us to do the wonderful things Google does, so first of all, we need to go to
https://www.google.co.uk/
, and when there, type in the street and area we need, e.g. Church Street, Hebburn. Then, select Maps
(indicated by red arrow)
from the list of tabs at the top of the page: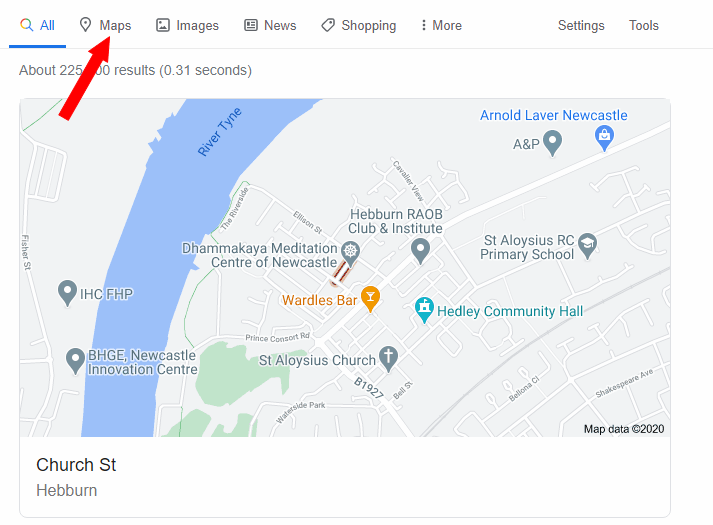 Then when the map appears, left-click on the collapse side panel
(indicated by red Arrow, below)
, and click on the Satellite View
(signified by green arrow, below)
.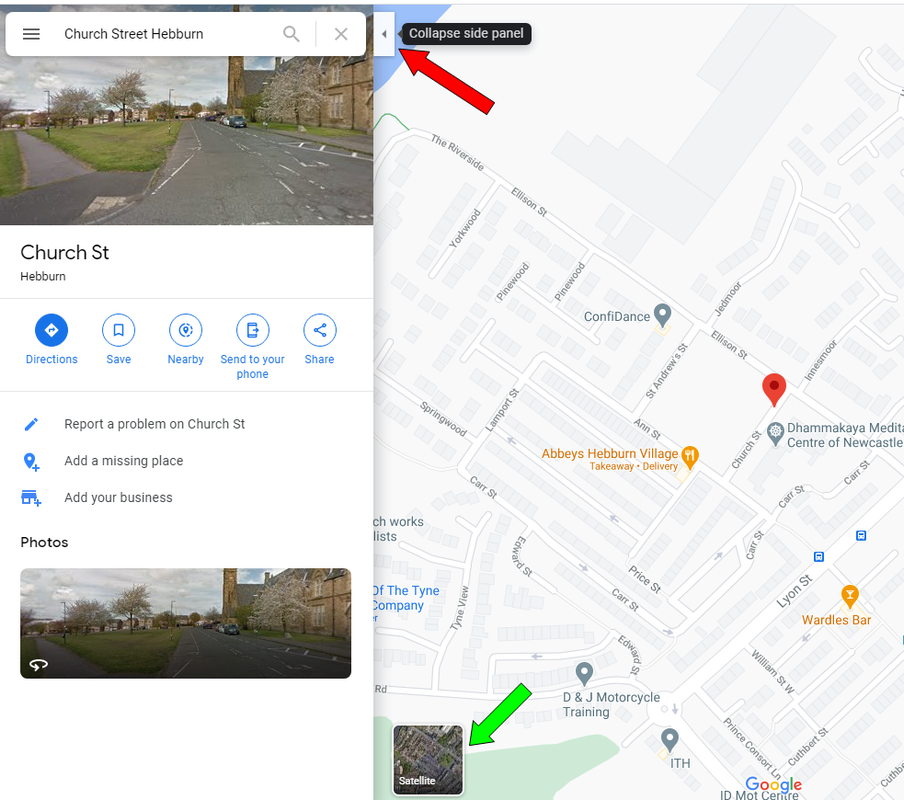 The map will now appear in plan view
(looking down from above)
.
The Google car passes up one side of a road and back down the other side of the same road, meaning that at different times of the day
(sometimes even months later)
the Google car takes two views of the same spot – one going and one coming.
Because of this, often, if we move slightly to a different part of the road, we either get the view from the Google car going up the road, or down the road – sometimes to our benefit.
Also, if we change the date manually, by moving the slider bar
(signified by the green arrow, below)
to another year, we can sometimes get exactly the shot we're looking for. Often, if there is a vehicle in front of what I'd like to view, I move the slider to another year and bingo!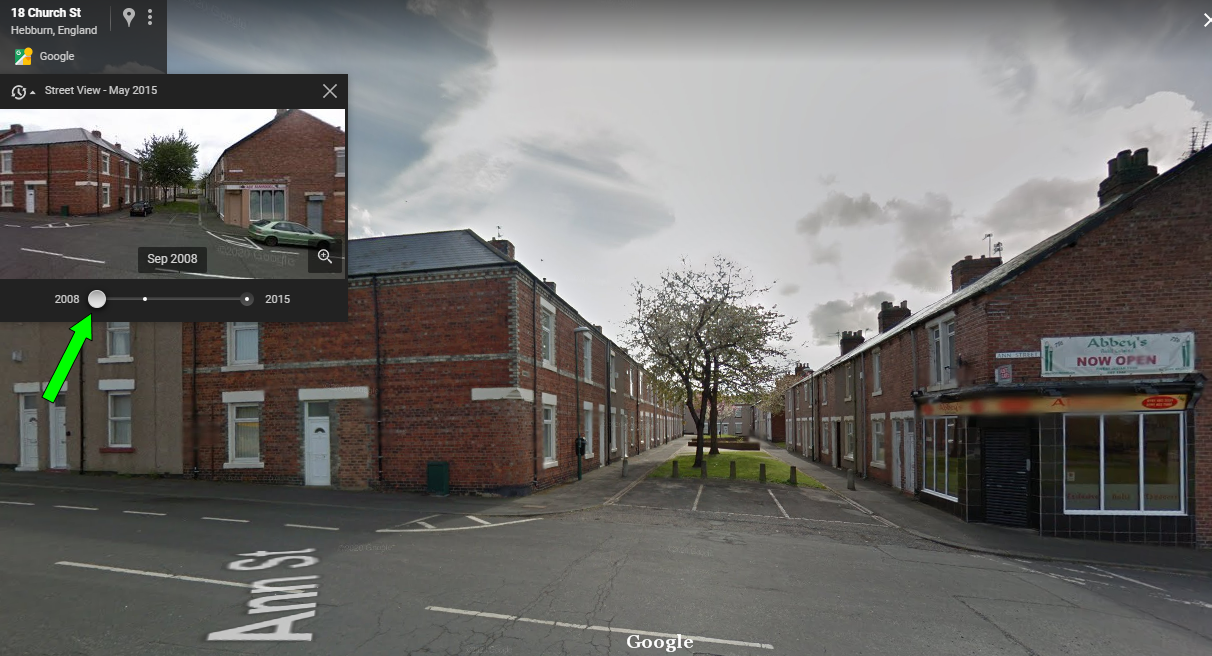 Also, whilst we're looking at Google maps, if we click on the globe
(signified by the red arrow below)
, we then have the ability to move the map in any direction, and circle 360˚ around any properties, which is very handy: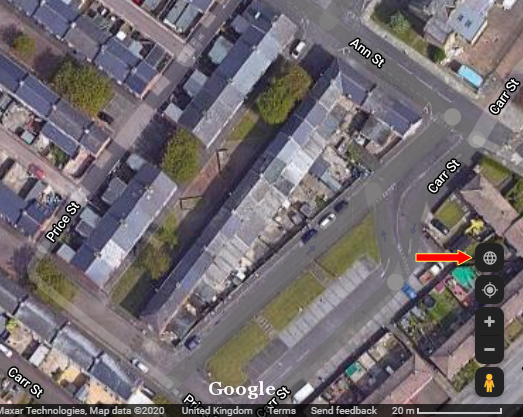 While in this globe mode, or in plan view
(looking from above)
, if you'd like to measure a distance on the map – the length of Church Street, for example - then please do the following:
Hover your cursor over the corner you'd like to start measuring from, then right-click your mouse and select 'Measure Distance'; then, place your cursor on the other end of the street, and left-click the mouse… a line will appear and the distance will be shown on the map at the end of the line. How good's that?
To delete the line, right-click on it and select 'Clear measurement'.
To find map coordinates for a location, click on that location… a Google Map Pin Icon will appear… left-click on that icon and the coordinates will appear.

The number on the bin at No. 22 can be seen through the back gate.
Allan, here is the layout for No. 16, Church, and No. 10 Ann Street: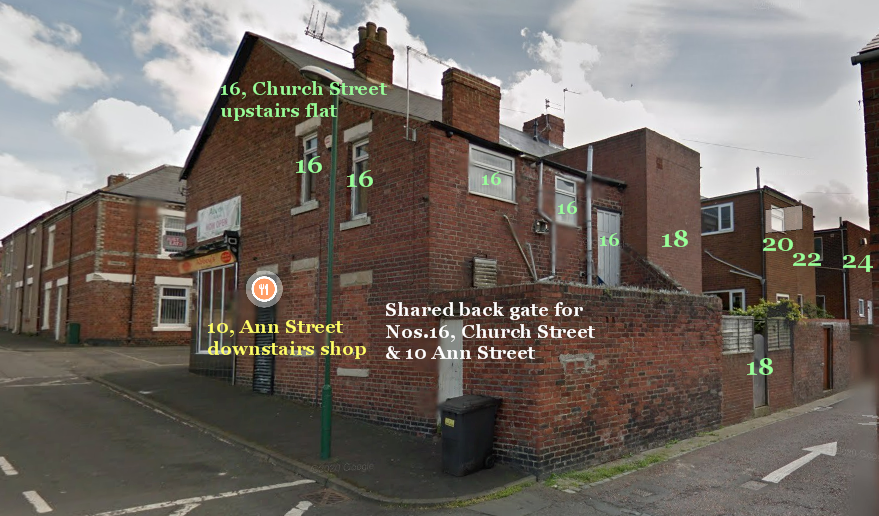 Allan, I'm glad that you're happy and satisfied that the door numbering has not changed.
Cheers,
Barry.