Hello Barrie
(Mortimer)
,
Thank you for pointing out that the message board is using a 12-hour clock.
I've checked the board clock on Norman's message board, and depending on the time of day, both 'am' and 'pm' are shown after the time
(red arrow)
; also, 'am' and 'pm' are shown after the time on each post, e.g.
(green arrows)
.
Barrie, I'm not sure why neither 'am' or 'pm' are not showing on your computer device.
It's likely that Norman has the authority to change it to 24-hour, but prefers the 12-hour.
My wife prefers the 12-hour clock on all our digital devices around our home.
Barrie, if you still can't see the 'am' and 'pm', please let us know.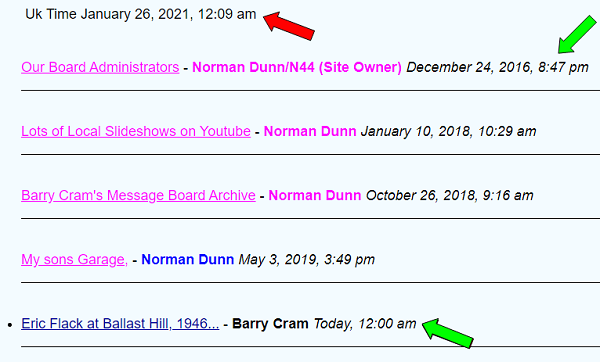 Re: Newtown School, 1970s…
Posted by Barrie Mortimer on January 24, 2021, 10:30 am, in reply to "Newtown School, 1970s…"
The timing of your post, Barry, is confusing. 12.00 o'clock could be midnight or noon, but neither is am or pm, which mean before or after 12 noon. There is something to be said for using the 24 hour clock, when midnight is either 00.00 or 24.00 and noon is 12.00. I know the time of posts is added by the service provider and is not your doing!
Cheers,
Barry.