Hello Ken
(Wood)
,
This is exciting news, because Harry Lynch is my 3rd Cousin, once removed, as we both descend from George Cram & Martha Baird of High Street, Jarrow.
I've traced Harry's family, and though I have Robert Lynch b.1909 on my pedigree, I know nothing more about him. I have ordered a death certificate for Robert, and will let you know the outcome when it arrives next week.
Also, I'm delighted that Harry has confirmed that it is Joseph Lynch in the photograph – how good's that? 🙂
In 1913, Joseph's father, Robert Lynch - Teemer on the ship Ethelaida, at Pelaw Main - was a witness, giving evidence on the death of sea-going engineer, John Bagley, of Cardiff, onboard the Ethelaida.
If Harry is on the Internet and would like to contact me, he can at barrycram@hotmail.co.uk
Cheers,
Barry.
P. S. Coincidentally, here is a post I placed onto the message board, 6th August 2018:
Re: Today's Header photo
Posted by Barry Cram on August 6, 2018, 4:46 pm, in reply to "Monday's Header photo"
Hello Norman,
I agree with Mac
(Cummings)
, this is a great photograph, especially for me, as it shows Pelaw Staiths where my cousin Joseph Lynch worked as a teemer, and Pelaw Main
(above the staiths)
where he lived.
Also, Norman, I was looking through your incredible videos, and on your 'Hebburn on Tyne as it once was' video, there is the following undated picture: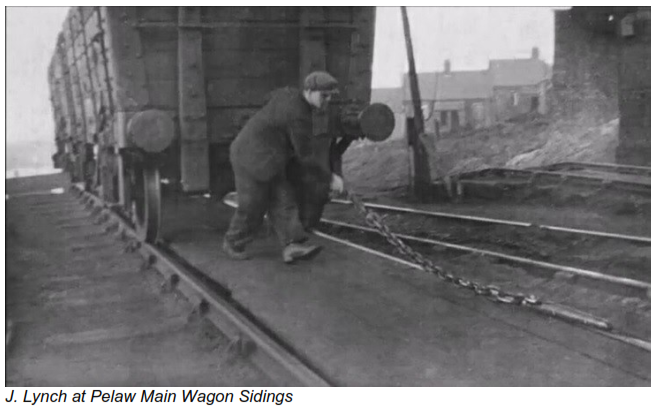 I have two separate branches of Lynch in my pedigree - both on my Dad's side. One branch
(Irish - arrived from Scotland in 1900)
and lived at Hebburn, and the other
(Irish - arrived 1828)
and lived at Pelaw.
Robert Lynch lived at Pelaw, and in 1901, aged 35, was a staiths coal teemer. Robert had a son named Joseph, born in 1906, and, depending on the date of the image, this could easily be him.
This branch has no connection to our good friend Michael Lynch; by the way, Michael, I hope you are feeling stronger than ever.
Cheers,
Barry.