Re: AGINCOURT …
Posted by BJC on August 21, 2019, 6:16 am, in reply to "Re: AGINCOURT …"
Hello Don,

You're correct, there were 2 properties adjacent to each other: Jarrow Wood House and Cockcrow.

Looking at the maps below it is obvious that at some point, someone mixed up the names of the two properties: Jarrow Wood House, and Cockcrow.

If the earliest map, below (1862) is correct, then the building showing on the other maps from 1897 to 1942, is actually, going by the shape of the property, Jarrow Wood House, and not Cockcrow – would you agree?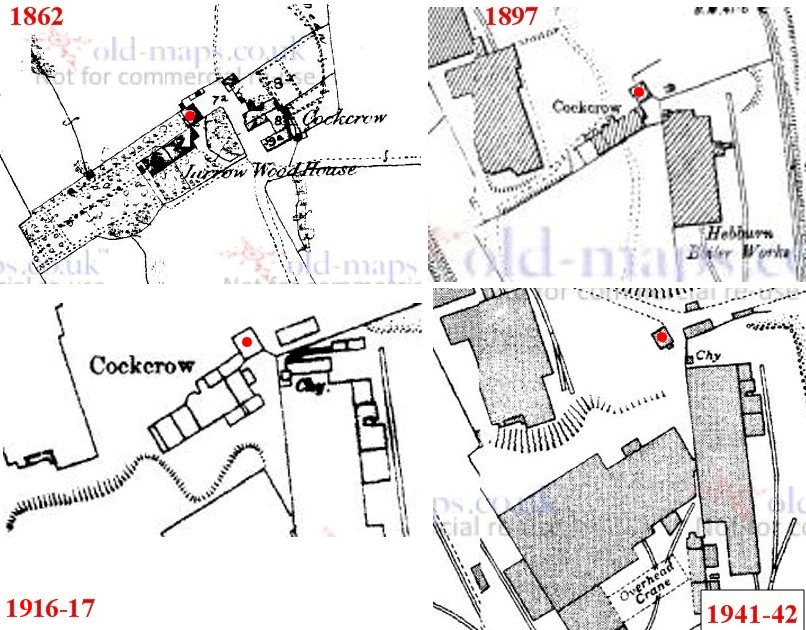 Don, in 1841, the Enumerator's schedule for District 24 in Hebburn Colliery, shows Cock Crow Well. His route went thus: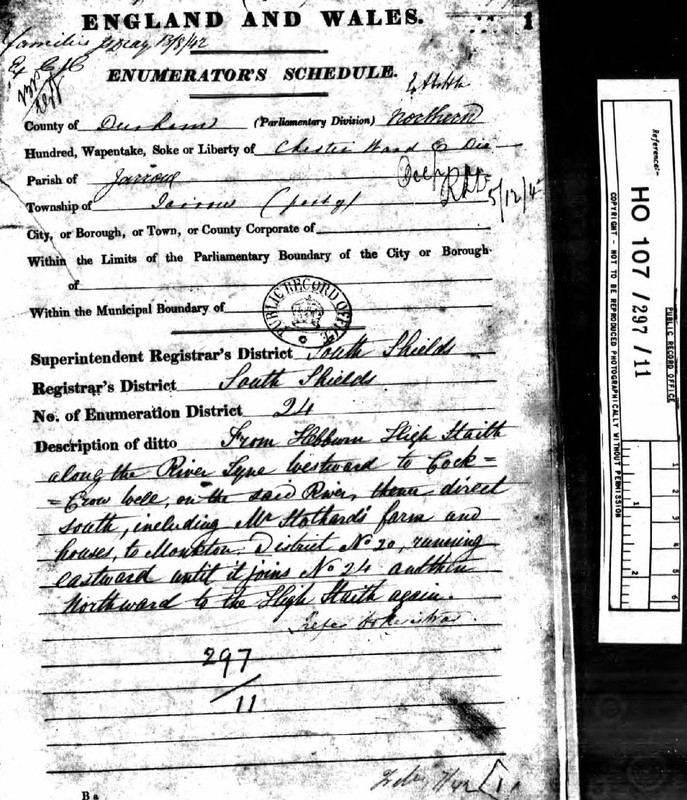 Courtesy: https://www.ancestry.co.uk/

1841 Census.
District No. 24
Enumerator's notes
From Hebburn High Staith along the River Tyne westward to Cock - Crow Well, on the said river, thence direct south including Mr Holland's farm and houses, to Monkton district No. 20 running eastward until it joins No. 24 and thence northward to Hebburn High Staith again

Hebburn Colliery
Chapel Row
Hebburn Colliery
Cleminson Row
Croft Row
Square
Waggon Row
Smokey Row

District No. 25
Enumerator's notes
From Cock - Crow Well westward up the River Tyne to Jarrow Wood House upon the said River, thence southward to Monkton boundary, thence eastward till it joins district No. 25 and thence northward to Cock Crow Well again, this includes Hebburn Hall and Lodges, Uifs Glovers, Burn Heads and Blue House

Jarrow Wood HouseHebburn Colliery C' Pit
Hebburn Hall North Lodge
Hebburn Hall
Hebburn Hall East Lodge
Hebburn Hall Garden House
Hebburn Hall West Lodge
Gamekeepers Cottages
North Hebburn
Burnhead
Blue House

District No. 26
Enumerator's notes
From Cock - Crow Well westward along Hebburn Quay and to the extreme boundary of the Parish abutting on the chapelry of Heworth on the margin of the River Tyne, thence southward bounded by the said chapelry to Monkton district No. 20, eastward along this line joining district No. 26 and thence again northward to the River at Cock - Crow Well

Urpeth Staith House
Coulters Close House
Milnew Quay
Hebburn Quay

Don, I love to keep to the facts, so I'm really glad that you brought up the subject of the Cock Crow Well, as my opinion now is that it wasn't at Cock Crow House, in the Quay (as I had erroneously assumed), but in the Colliery, as shown on the following map, beside the red dot:





All maps courtesy: https://www.old-maps.co.uk/

One would think that, as Cleg Well (sometimes Clegg Well), was at Cleg House (sometimes Clegg House), that Cockcrow Well would be at Cockcrow House, but no. The Cock Crow Sand stretched almost the entire length of Hebburn shore, so was more ancient and significant than Cockcrow House; in fact, Cock Crow House isn't mentioned on the following 1850 map, although Jarrow Wood House is: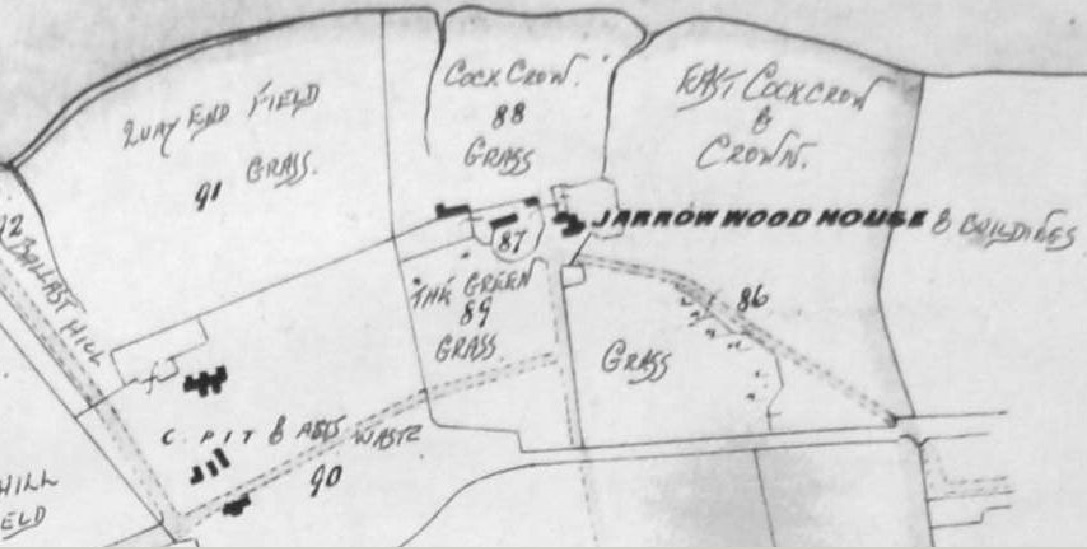 https://www.british-history.ac.uk/no-series/newcastle-historical-account/pp736-744
"… there are several sandbanks in the channel of the river, which are now dry at three-quarters ebb; and there are others which are nearly dry at half-ebb: of the former are those at Jarrow sands, amounting to about 21 acres; and of the latter are Cock Crow sand and several others, amounting to about 52 acres; making together about 73 acres, which will be reduced to a depth considerably under low water."

Don, it makes me wonder that if the Tyne was left to its own means, if it might not silt up and become once more like times past when we could walk across it.

Don, I'm impressed by your qualifications, and yes, I believe the old Cock Crow area is still open enough for an archaeological dig:
Please go here and move the cursor around: https://maps.nls.uk/geo/explore/side-by-side/#zoom=17&lat=54.9826&lon=-1.5205&layers=168&right=BingSat




I agree, our good friend, Brian (Wilkie) is a miss from the board. I remember when he brought up his memories of a bridge in the 50s, that he told us went over Wagonway Road; he was laughed at by some, but when a map came along proving his memory to be true, he was praised. You and Brian were a good comedy team and used to brighten up the board and make us laugh.


Cheers,
Barry.
---