John Redhead...
Posted by BJC on September 9, 2019, 7:30 am, in reply to "Re: BEANLEY AVENUE …"
Hello John,

In 1841, John Redhead was a farmer at Hebburn Quay and William Redhead was a publican there.

In 1851, John Redhead was a farmer of 24 acres at Hebburn Quay

As you can see from this 1850 map of Hebburn, John Redhead rented a large proportion of arable land (suitable for growing crops) and grass land (for grazing), from landowner, Cuthbert Ellison. He had a workforce of 5 lads and 4 servants, and I suspect he would have employed many more labourers in the planting and harvesting seasons.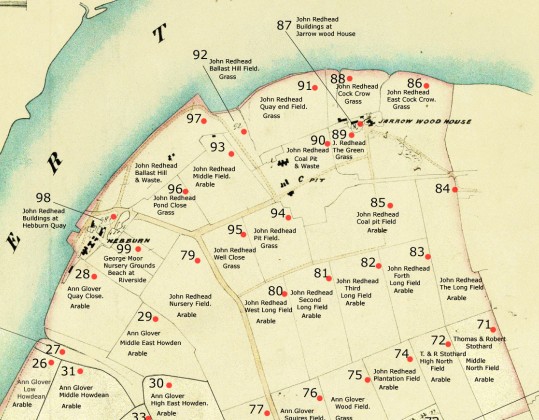 In 1861, John Redhead had 220 acres, with 3 servants and 5 labourers.
I don't think that John Redhead would have sublet these plots, as labour was cheap, and after planting, the fields they would have been left alone for many months to grow their crops. It would have only taken a few permanent workers to look after these fields, herding animals to and from grass fields.

Cheers,
Barry.
---