Alex Nicol
Posted by Shaun Robson on November 19, 2019, 7:48 pm
I would like to extend my thanks to all of Alex friends who attended his funeral on a very wet and cold November Day at South shields Crematorium and later at the reception in the Iona Club.

Through you kind generosity the sum of £390.29 was collected on the day for Marie Curie.

I am sure he would be well pleased.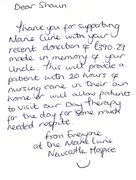 ---