Information on the fountain gleaned from Online...
Posted by BJC on December 20, 2019, 10:07 am, in reply to "Don, I've e-mailed you..."
https://www.alamy.com/stock-photo-ajaxnetphoto-1987-hebburn-on-tyne-england-drinking-fountain-victorian-129477081.html
1987: AJAXNETPHOTO. HEBBURN-ON-TYNE, ENGLAND. - DRINKING FOUNTAIN - VICTORIAN DRINKING FOUNTAIN AT ENTRANCE TO FORMER HAWTHORN LESLIE SHIPYARD IN ELLISON STREET. CAST IRON FOUNTAIN DESIGNED BY MILLS BROTHERS, LONDON, WAS CAST BY EMLEY AND WALKER, NEWCASTLE. REPORTED STOLEN IN 2005. PHOTO:JONATHAN EASTLAND/AJAX REF:21207 3 1
Contributor: Ajax News & Feature Service / Alamy Stock Photo
Image ID: HEJ59D
File size:
14.8 MB (0.9 MB Compressed download)
Dimensions: 1872 x 2763 px | 15.8 x 23.4 cm | 6.2 x 9.2 inches | 300dpi
Releases: Model - no | Property - no Do I need a release?
More information:
Photographer: JONATHAN EASTLAND
Date taken: 1987
Location: HEBBURN-ON-TYNE, ENGLAND.

-----------------------------------------------

From the 1997 Gazette book: "It has been emphasised that its two Grade Two Listed buildings - the shipyard offices and a cast iron drinking fountain - should be properly conserved. The two-storey office building dates from 1890 and is noted for its panelled entrance hall; also its staircase with its fine wrought iron balustrade with 'crane bill' motif. Any development of the building, it's said, would have to include the conservation of these features, as well as the restoration of its Welsh slate roof."

----------------------------------------------

https://www.chroniclelive.co.uk/news/north-east-news/fountain-appeal-1590429
BY
Evening Chronicle
• 00:00, 21 SEP 2005
• UPDATED01:14, 28 FEB 2013
•
2005: Fountain appeal
An appeal has been launched to find a maritime treasure stolen from a shipyard.
An appeal has been launched to find a maritime treasure stolen from a shipyard.
A Victorian drinking fountain at the former Hawthorn Leslie yard in Ellison Street, Hebburn, was ripped off the wall a week ago.
Coun Eddie McAtominey said: "This is a unique piece of Hebburn's history and it would be a great shame of the fountain is not returned."
Anyone with information on the theft can call the police on (0191) 454 7555 or the council on (0191) 427 1717.

----------------------------------------------

https://memorialdrinkingfountains.wordpress.com/2018/02/22/hawthorn-leslie-shipyard-fountain/
2005: Hawthorn Leslie Shipyard Fountain

By HIS Location: Hebburn, Tyne and Wear, England
A cast iron drinking fountain for use by shipyard workers was mounted on a wall on Ellison Street at the entrance to the Hawthorn Leslie Shipyard. The fountain identified by me as 'lost' because it is no longer visible was actually stolen from the derelict building in 2005.
The fountain was from a design by brothers William and Thomas Wills of Suffolk who were noted sculptors in the mid 19th. century and best known for their designs of drinking fountains. It was manufactured by Emley and Walker of Newcastle. Once recorded as a Grade II historic building it was delisted in 2014.
The cast iron frame is in the form of a stylized shield with curved and winged edges. The top part of the shield, in the form of an ogee arch, contains a sculpture of winged cherubs resting upon clouds. Beneath the cherub is a legend, He Opened The Rock And / The Waters Gushed Out / They Ran In The Dry Places / Like A River / Psalm CV 41.
A recessed round arch contained the drinking well and the name of the sculptors, Wills Brothers Sculpt London. Water was dispersed into the basin via a spigot concealed behind a clam shell decoration situated in the interior of the arch.
Each side of the arch is decorated with reeds and foliage. On the left side is a robed male figure with long beard standing contrapposto. In his left hand is a rod resting on the cusp of the arch. This is a depiction of Moses striking the rock to release gushing water. On the right of the drinking well is the robed figure of a woman offering a basin of water to a naked child.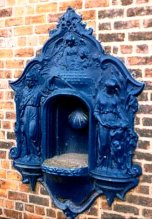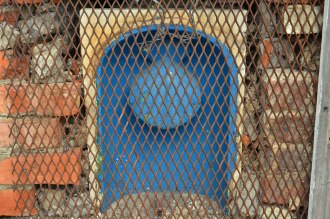 ------------------------------------------------

2010: South Tyneside Borough Council - South Tyneside Local Brownfield Strategy Site Assessments: Site Seven - Former Hawthorn Leslie Shipyard, Ellison Street, Hebburn (452000101)
Site Description
6.103 NLUD category C – Land and buildings previously developed now vacant.
6.104 Known ownerships – MMC Estates
6.105 The site, extending to 3.81 ha (9.41 acres) was formerly the Hawthorne Leslie Shipyard which closed in 1982. Many of the original buildings have now been demolished but office premises and factory/warehouse remain on the site,
clustered at the southern corner at the boundary with Ellison Street.
6.106 Ellison Street provides the only vehicular and pedestrian access point to the site which now also provides access to the modern residential estate located to south, east and west. The river forms the northern site boundary providing direct access.
6.107 The site is secure and as such access into the site was not available at the time of inspection. However, it is apparent that the remaining buildings have been subject to prolific vandalism. The former administrative brick buildings have suffered substantial fire damage and subsequently the buildings are not wind and water tight. We understand that these brick buildings are Grade II Listed and would require substantial repair and renovation to bring them back into use.
6.108 The remainder of the site provides access to the River Tyne and two moorings. It is understood that the site is in the private ownership of MMC Estates but is surplus to requirements.
6.109 The site has been previously marketed by Knight Frank in 2008/2009 with an asking price of £1.25 million.
6.110 The area surrounding this site has traditionally been industrial and employment uses. Over time, the areas to the south and east have become more residential in nature.

Planning Policy & Planning History
6.111 The site is identified in the 1999 UDP as a 'Predominantly Industrial Area'. In these areas the retention of industrial, business, storage and distribution, and river related uses will be encouraged. With the development of other commercial, employment creating activities considered by the Local Planning Authority subject to the prevailing development control and design standards and other policies in the plan. New residential or major retail developments are not permitted.
6.112 The Predominantly Industrial Area (PIA) policy has been taken through to the Local Development Framework Documents. The adopted Core Strategy Policy E1 protects viable employment sites and other employment sites with special attributes for employment uses only.
6.113 The Development Management Policies DPD (publication draft, June 2010), Policy DM2 safeguards existing predominantly industrial areas and other land allocations for employment use (B1, B2, B8) as opposed to redevelopment for alternative uses, where this is sustainable and viable, to ensure a sufficient supply of employment land over the next 10-15 years. The policy also includes criteria for determining proposals for non-employment uses in predominantly industrial areas and other employment land allocations.
6.114 The revised draft Site-Specific Allocations DPD allocates this site for mixed use development with B1, B2, B8 and C3 - office, general industrial, storage, distribution and dwelling houses. The DPD also provides that the listed buildings
could be converted for residential use. Supporting text sets out the need for an appropriate mix of uses to facilitate the viability of the site but also the need to ensure that uses are compatible.

Constraints
6.115 There is serious contamination on the site associated with the previous use of ship building and with its location on the River Tyne. The contamination could include heavy metals, hydro carbons, anti-fouling agents and ballast from the ships. However in order to fully ascertain the level of contamination, the required remediation procedures and associated costs further investigation is required.
6.116 The site is an AFI under the Environmental Protection Act 1990 and is directly adjacent another three AFIs which may have implications for remediation costs.
The AFI recorded is as follows:
Dockyards, Infilled (c1862), Dockyard (Ship repair) (c1898-1995)
6.117 Parts of the site are classified as being within Flood Zones 2 and 3a which has a high risk of flooding. This could restrict development on parts of the site and influence development design in accordance with the restrictions set out in PPS25.
6.118 Some of the buildings on the site are Grade II listed. Future redevelopment of the site would either need to incorporate these buildings, or alternatively if redevelopment was necessary the applicant would need to suitably
Fulfil the requirements for demolition as set out in PPS5 Planning and the Historic Environment.
6.119 There are industrial operations at the adjacent A&P Tyne shipbuilding and repair site which may affect the configuration of development that could be brought forward on the site.
Recommended Final Use: Mixed-use development
6.120 It is logical that residential uses or economic development uses (B1,B2,B8) could potentially be promoted on site if appropriately located in relation to the neighbouring land uses. Small-scale light employment uses which are compatible with the surrounding residential and neighbouring employment uses could be configured to act as a buffer.

--------------------------------------------------

2014: Once recorded as a Grade II historic building it was delisted in 2014.

June 2019: Hebburn fire: What we know about the 'death trap' former shipyard Hawthorn Leslie which was targeted in suspected arson attack.
The derelict shipyard in Hebburn could be demolished 'as a matter of urgency' after it was targeted in a suspected arson attack.

Flames tore through the roof and plumes of thick grey smoke poured from the former Hawthorn Leslie shipyard on Wednesday night.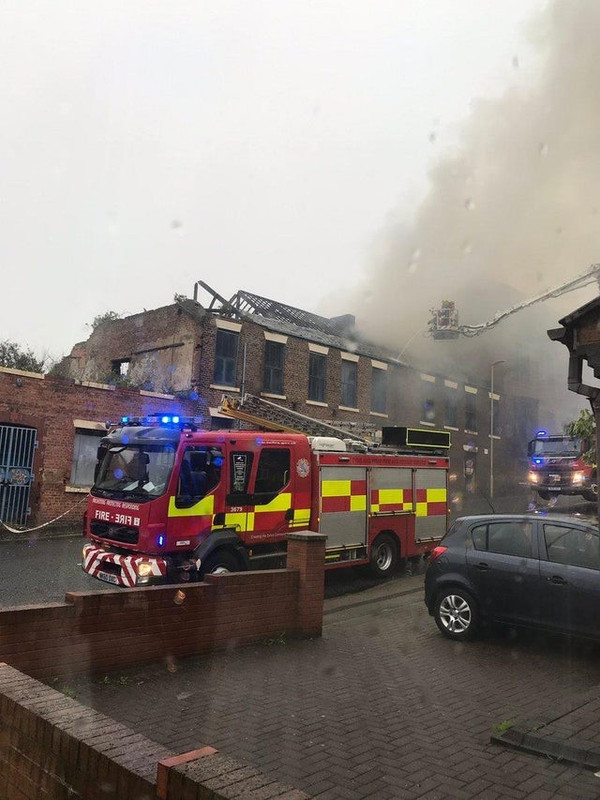 South Tyneside Council now says it will look to have the building demolished 'as a matter of urgency'.
What caused the blaze? Police say the fire is being treated as a suspected arson, although an investigation by the fire service is now under way to confirm the cause of the fire. The building has been targeted a number of times in recent weeks and Tyne and Wear Fire and Rescue Service is in discussion with the council to see what can be done with the buildings and even if they could be demolished.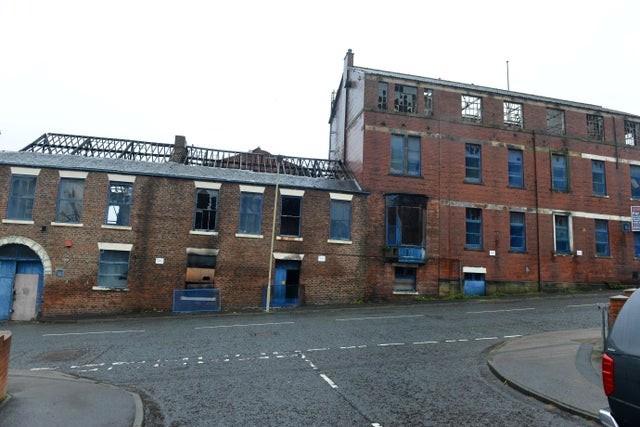 What are the proposed plans for the derelict shipyard?
A South Tyneside Council spokesman said: "We are seeking to have the building demolished as a matter of urgency and we have advised the owners of this.
"We are examining our legal options should the owner not be forthcoming as to a timescale to demolish this building."
Previous plans to demolish the works were held up the site's listed status. But this was removed in 2014, paving the way for potential redevelopment.

---