UPDATE ON THE HAWTHORN LESLIE DRINKING FOUNTAIN…
Posted by BJC on December 22, 2019, 6:01 am
1997:
In 1997, Janis Blower, in her book, 'Banks of the Tyne, Vol 1 Issue 3' mentioned:
"It has been emphasised that Hawthorn Leslie's two Grade Two Listed buildings - the shipyard offices and a cast iron drinking fountain - should be properly conserved. The two-storey office building dates from 1890…"

2005:
The fountain was first recorded as missing from the wall of Leslie offices in a local newspaper article, 21 September 2005, when it is said that, "It was ripped from the wall a week ago". In the same article, Councillor Eddie McAtominey, in an appeal for the return of the fountain, said, "This is a unique piece of Hebburn's history and it would be a great shame if the fountain is not returned. Anyone with information on the theft can call the police on (01661) 872555 or the council on (0191) 427 7000."

If anyone has any relevant information regarding the fountain, you're welcome to e-mail me privately at barrycram@hotmail.co.uk

Some said that it was taken for scrap, but, because of the low cost of cast iron I doubt any scrap man would have bothered taking it off the wall.
It seems to have been carefully removed, and my feeling is that someone – possibly the owner - 'saved it', and that it is still in one piece somewhere… I use the term 'in one piece' loosely.

I am presently awaiting e-mail replies from people involved in the sale of Hawthorn Leslie, in the hope that they might know what happened to the fountain.

Don Scott and I are both open to the possibility that the fountain is gone forever.

Notice in the images below, the fountain is badly rusted and smothered in paint to make it look presentable, and image 'B' shows severe damage to the lower part. We must ask ourselves the question, how badly damaged did the fountain get after image 'B' was taken, and before it disappeared? Can anyone remember it in a worse state than image 'B' shows? Please let us know… photographic evidence would be ideal if available.




What if we get the fountain back?
We now know that the fountain is seriously damaged, and if recovered, would be in need of major repair. It's a fact that getting it repaired or getting another cast-iron fountain made would be financially beyond our means – but we'd still like it back anyway, damaged or not, as it's part of our heritage and an historic treasure.
It was designed by Mills Brothers of London, and cast by Emley and Walker of Newcastle – now defunct, so getting a cast made would be most likely impossible.

What if we don't get the fountain back – would a replica suffice?
We know that even if Emley and Walker were still in business, that it would be beyond our means to get a new cast-iron fountain made; but Emley and Walker are not in business, and finding another fountain of the exact same design to take a copy from… well… what's the chances?

Well, Don Scott and I did some research and uncovered the following fountain, in Hythe, Kent, which is an exact replica of the Leslie fountain (except for some text under the bowl) made by another company. It is in such good condition as it was kept indoors for many years:



Used with permission. Source: https://www.flickr.com/photos/66958695@N00/5453269884/
The cast iron frame was in the form of a stylized shield with curved and winged edges. The top part of the shield, in the form of an ogee arch, contained a sculpture of winged cherubs resting upon clouds. The design offered a legend beneath the cherub, He Opened The Rock And / The Waters Gushed Out / They Ran In The Dry Places / Like A River / Psalm CV 41.

Here is our fountain side-by-side with the Hythe and Bishopsgate fountains, to show comparison: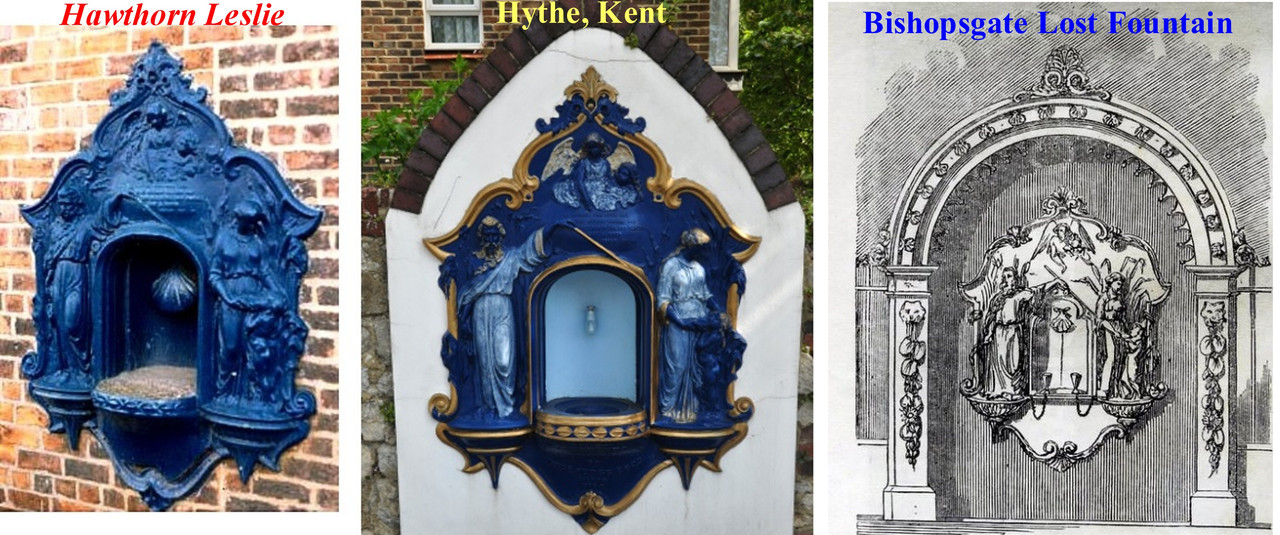 Don and I asked and answered the following questions:
Q. When was the Leslie's fountain mounted in the wall?
A. The offices were built in 1890, so the fountain was installed then, or sometime after, though could have been cast sometime before 1890.

Q. Was there more than one casting made at a time, and by the same company?
A. (1): The Leslie's fountain was cast in Newcastle by Emley & Walker, in 1890 or before.
'Walker & Emley' started trading together in1876; they traded as 'ironmongers, Ironfounders and marble merchants at 42–44 Westgate Road, Gallowgate and Neville Street', Newcastle as well as 10 Bothwell Street, Glasgow.
https://www.mackintosh-architecture.gla.ac.uk/catalogue/name/?nid=WalkHSon

A. (2): The fountain in Bishopsgate, London was presented by Mr. Charles Gilpin M.P. on Wed 11th July 1860 to the ward of Bishopsgate in which he resided.
Gilpin was a Quaker and a publisher who was involved in radical politics. He campaigned for parliamentary, economic and land reform as well as the abolition of slavery and capital punishment. The gift of a drinking fountain to encourage the abstinence of alcohol and give an alternative to the thirsty passersby was an
acknowledgment to his membership in the Temperance movement which he joined as a youth.
https://memorialdrinkingfountains.wordpress.com/2018/04/15/bishopsgate-lost-fountain/

A. (3): The Hythe one was cast in 1886 by Coalbrookdale Company of Shropshire from a design by William and Thomas Wills of Suffolk - noted sculptors in the mid-19th. century and best known for their designs of drinking fountains.
https://memorialdrinkingfountains.wordpress.com/tag/hythe/

So, again we ask, would an exact replica of the fountain suffice?
The fountain at Hythe is in excellent condition, unblemished in any way, due to having been kept indoors for many years, and taking a copy from it would be perfect, and much cheaper than doing the old one up… if we find it.

The alternative is that if the original Hawthorn Leslie fountain turns up, we put it on display 'as is', without any restoration.

If acceptable, I think the Hub would be a good place for the fountain, as it has lots of wall space, and plenty of visitors to enjoy it.

I expect we will know within the next 4 weeks whether or not the fountain is in safe hands – we'll keep you posted.

Cheers,
Barry.
---