Re: Dr. Miller and family...
Posted by BJC on September 23, 2020, 8:16 pm, in reply to "Re: Dr. Miller and family..."
Edited by administrator Admin3 September 23, 2020, 8:24 pm
Re: Dr Miller
Posted by BJC on February 11, 2019, 9:10 pm, in reply to "Dr Miller"

Letter written by Hugh's son, Robin:
https://www.sahs.org.uk/resources/Commarch/ANECDOTES%20Richard%20Percy.pdf
CAPTAIN HUGH DAVIDSON MILLER ROYAL ARMY MEDICAL CORPS OF SIGNALS.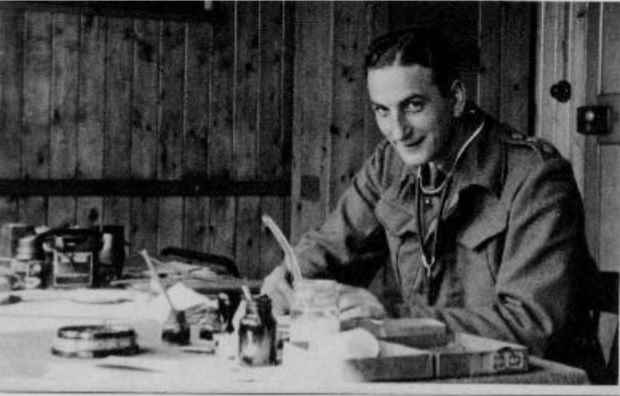 Captain Hugh Davidson Miller - was billeted in town with the Royal Army Medical Corps of Signals and in the Blitz (18 March, 1941) showed great courage by crawling under the wreckage of bombed York House, 1 Queens Terrace to administer morphine etc to those trapped and dying. For this he was awarded the George Medal.

The following is a letter from his eldest son Robin. Robin MillerSunflower CottageDevon ( I have omitted the full address)Dear Richard,Thank you for your telephone call concerning my father. It has taken me sometime to collect all the information. Like you I tried to find the orginal citation concerning his George Medal and my search took me to Aldershot to the RAMC Headquarter"s Library, but unfortunately they were unable to help. Then in 2005 the British Medical Journal published anticle on 'Doctors at War' and in that article they mentioned that 3 George Medals had been awarded to doctors serving in the Armed Forcesduring World War Two. They were able to tell me that one was awarded to my father. They did not know why as they were unable to trace the citation.I then contacted the Imperial War Museum in London who were extremely helpful and I was able to research various books concerning the awards to people who had been awarded the George Medal. As a result I now have the original citation for my father. My father was born on 29 September, 1909 at Ballochmorriek, Kirkcudbrightshire and some time later his parents moved to Bothwell, in Lanarkshire. He had 3 sisters. His father, who was a market gardener, died when he was 12. He went to school at Uddingston Grammar School and left there at the age of 16, in 1925. He won a scholarship to Glasgow University to study Medicine. He spent 6 years at Glasgow and finished top of his year winning various certificates and medals for his outstanding work. Whilst at University, he used to play soccer for Hamilton Academicals as an amateur for several years until he left University. He qualified in April, 1932.After University he left Scotland to join my grandfather's practice in Hebburn in 1932 and married Moire Jean Lindsay (my mother), the daughter of my Grandfather on 4 June, 1936. I was born on 30 April, 1938, just before the outbreak of war.
In January, 1940 he joined the Army and was initially stationed at Catterick, where he was attached to the 1stHolding Battalion of the Royal Corps of Signals. At some stage he was billeted at Scarborough as I remember being there, but the reason why he was sent there I do not know. But, I do remember that we used to go boating on a lake there and also that we were not allowed on the beach as it was mined and had barbed wire all along the front.It was on 17 March, 1941 that he was awarded the George Medal (it is here that the date is wrong both on his citation and in Robin"s letter as it was 18 March,1941) and the George Medal was awarded to him by King George V1on 17 June, 1941 at St James's Palace. As a result of the injuries he received in the incident he was barred from active service and would have been discharged on medical grounds from the Army but he insisted that he could still do medical work for the Army in a limited capacity. (A beam had fallen on him when he was under the wrecked house).He was then attached to the DDMS based just outside Northallerton for the remainder of the war and became Medical Officer for various POW camps around Northallerton and Thirsk. As a result we as a family moved to a small village, Coxwold and lived in a rented cottage (I presume) for the rest of the war. At the end of the war he returned to Hebburn where he practiced with my grandfather. He retired on the grounds of ill health because of his previous back injuries on 31 March, 1967. He then moved to Mallorca where he and my mother had 3 years together before he suffered a cerebral aneurysm in February, 1970. I was then working in Edinburgh in hospital and I flew out to bring him home. He was admitted to the Department of Neurosurgery at the Western General Hospital in Edinburgh. Unfortunately, there was nothing that could be done to help him. He died on 9 March, 1970.Funnily enough during the whole of his life he never once mentioned to anyone that he had been awarded the George Medal but I gather that this is not unusual as I know that my uncles would never talk about their war experiences. Perhaps the memories were too painful to recall. I am enclosing the original citation, The London Gazette, and various newspaper cuttings also photos which I would be grateful if you could return after you have copied them. If there is any further information that you would like please let me know. Kind regard. Robin.
---