Around the Churches - St Oswalds, Hebburn...
Posted by St Oswalds, Hebburn on October 25, 2020, 9:54 pm
Newcastle Journal - Monday 19 August 1963
With thanks to Trinity Mirror. Digitised by Findmypast Newspaper Archive Limited. All rights reserved.

AROUND THE CHURCHES
Hebburn Parish Really Works Together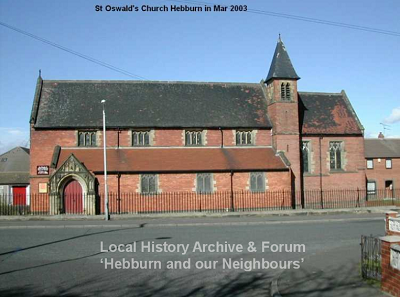 The church the parishioners helped to build – that's St. Oswald's, Hebburn.
It has been an example of how its parishioners care and work for their beliefs ever since its consecration in 1883.
In its early days a former vicar vowed, "This church is going to look like a great cathedral".
His parishioners proved him right.

COMPLETE

With the turn of the century came the addition of a chancel – making St Oswalds the first complete church in Hebburn – then with the help of parishioners a vestry was built.
From then the church never looked back, and later men worked for months making an intricately designed panelling for the sanctuary, a fine screen over the entrance to the chancel and the choir seats – all in oak.
But the work did not stop … a smaller alter, large candle holders and even frames for the hymn numbers came next.
The men who helped, incidentally, will have a place in history. Behind the oak panelling in the sanctuary lies a record of their names and work they have done.

SATISFYING

One of them, still a parishioner, said last night, "It was hard work but it was extremely satisfying and we are proud of it.
"We did it for one reason.
We wanted to help our church."
It is easy to see why this was, for the stimulating aura of alertness hits and encourages one when entering the extremely attractive building.
This atmosphere of brightness is not confined to the interior itself, for the vicar, the Rev. R. J. Knell, is carrying on in the best tradition of his predecessors.

KEENNESS

His keenness and obvious wish to make people 'Belong' have aroused a great deal of admiration in Hebburn.
His attitude – and that of his church – is summed up by the cover picture on his church magazine – depicting the altar linked with the homes and shipyards.
He explains: "This is meant to remind us that our parish church and its life and work, summoned up in the Holy Eucharist – the altar in the centre – is the principal link between our lives at home and at work – the houses and the shipyards and God.
"Through the church our lives are linked with and offered to God and His life comes to us."

---