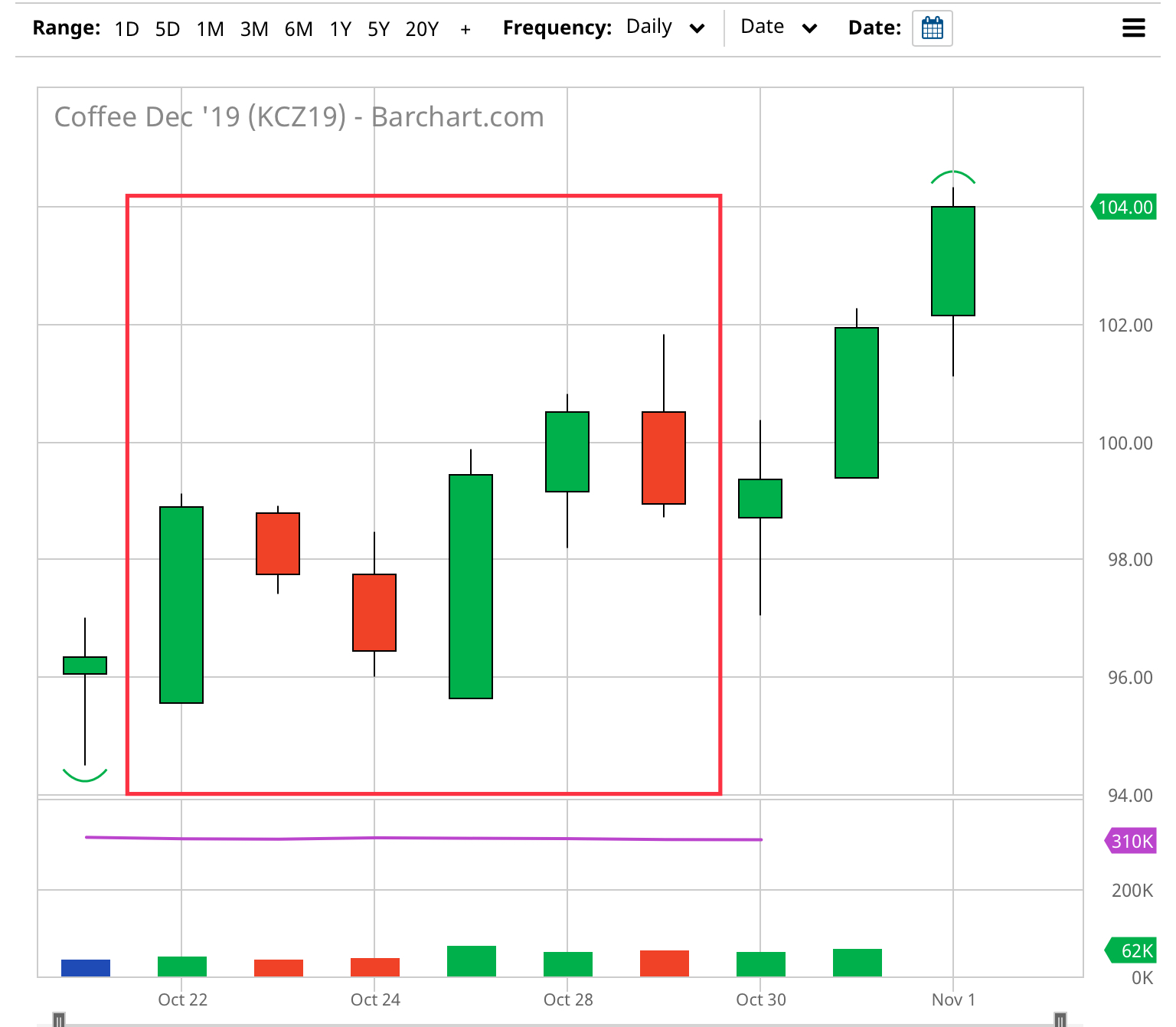 For the period covered by the COT, the market was up a single tic. But, during this time, we see a relatively high number of short covering by funds and commercial selling. Itís likely that the same pattern continued for the remainder of the week as prices strenuously moved higher not without serious corrections. On Friday, corrections were smaller and, as the market moved higher, there were hardly any setbacks. It was an impressive day.
The reasons assigned to the strength are several - tighter supplies, or anticipation thereof, inadequate moisture, (a report from a weather station was just released that continued dryness will prevail in parts of Brazil through January), and a recovering Real, possibly, which is now below 4.000. Progress in Brazilís economy is becoming more hopeful and global trade angst seems to have subsided as well which has been weighing on emerging, exporting, countries for some time.
Of course, reasons for strength or weakness always emerge as markets are moving. From a COT point of view, shorts are covering while commercials are vigorously selling. We are obviously in notice season and we already see a large drop in the Dec OI in last weekís COT. This week coming we have the roll intensifying and, on Friday, we have Dec options expiration. As the market reaches striking prices there will likely be support/resistance.
Robusta experienced a drop in OI as a result on Nov linked activity including large blocks of EFPs, all delivery and roll related. But there has been a good deal of strength attributed to RC. The arbitrage has been showing that this market has been neck and neck with KC for the most part. Spreads continue to strengthen mostly in Arabica. The SepDec on Friday traded to -2.50 and this spread has been particularly steady.
For now we have a somewhat strong market. Nagualís forks are pointing higher which is a good sign. Hopefully, this is not deja vu.