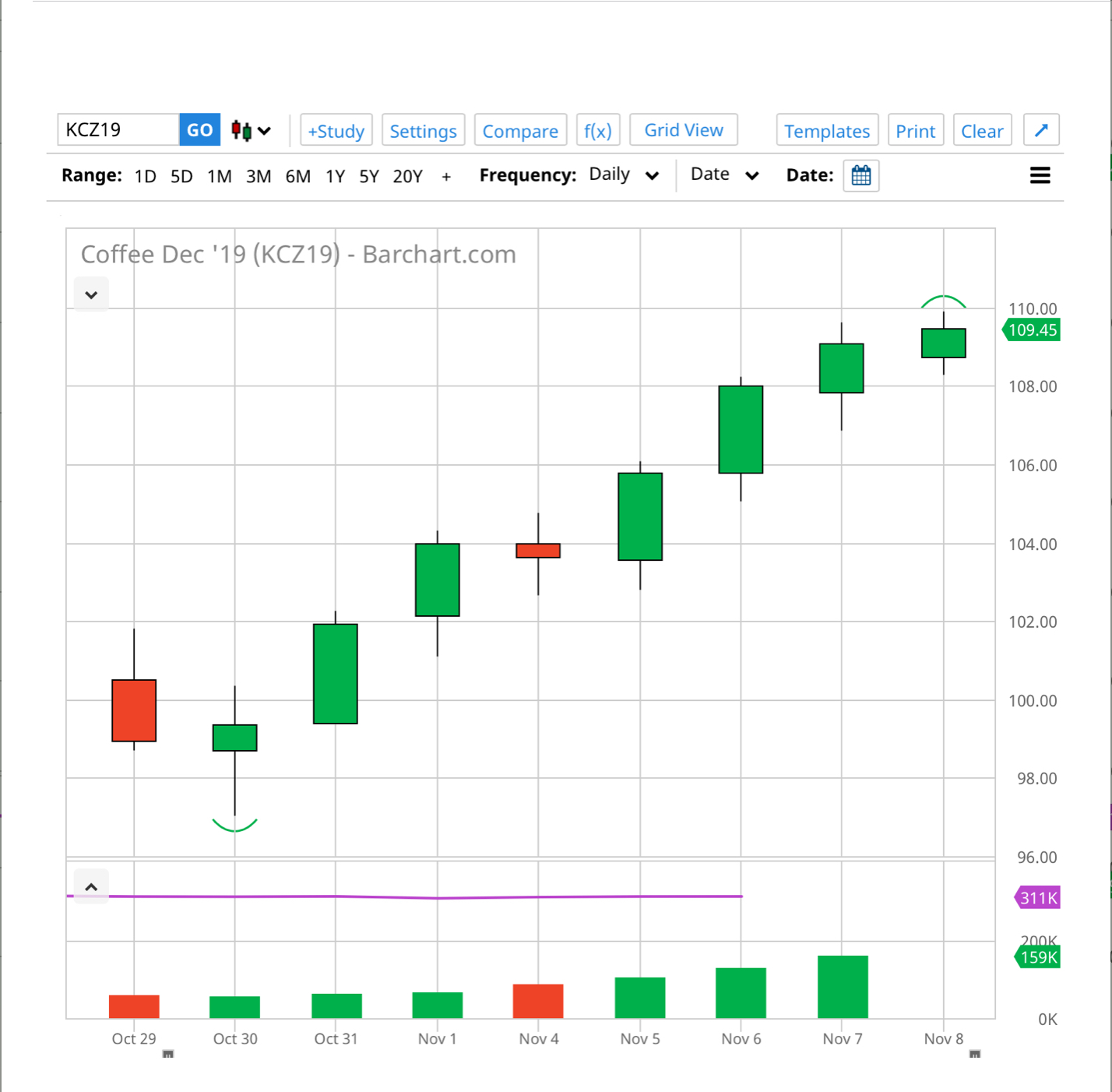 The total OI hardly changed while the Dec OI dropped significantly. It appears that this indicates rolling of Dec positions into forward months but the COT shows other activity as well.
Itís obvious that managed money were the Dec buyers. Large traders sold a big chunk of their longs but the big new sellers were commercials. Please note that the CFTC reported mistakingly for Small Traders as they have the same positions as the last report and showing no change. But, we know that the total of all the sectors changes has to be zero, in the disaggregated, and so Small Traders sold 3,442 lots. Based on the Supplemental, it looks like long liquidation.
After seeing the magnitude of option participation, especially by commercials, we can appreciate the resistance injected in the market as they hedge their delta. It is difficult to accept however, that the added selling is all paired with options. There must be naked short selling as well by commercials and others. Letís not forget the significant selling in the forwards which is suspected to be origin. It is a paradox that coffee is being hedged and spreads are tightening. As reported, the Sep21Dec21 traded as high as -1.20 on Friday as all forward spreads are strengthening. We also see the numbers liquidated by both small and large traders. Such activity, both new and old selling, indicates a lack of trust in further gains by the trading community, imo. This is for good reason as we have seen a depressed market and short-lived rallies for the last three years. At the same time, the force of managed money short covering, and covering by delta shorts, is significant. There will be a time when the negative trend will reverse. Is now the time?
We continue to see reports of inadequate weather and a compromised crop. Does anyone know the status of the cyclone is that is threatening Viet Nam? Trade relations between The US and China are improving, even if slowly, which may be attracting the return of investment in commodities including coffee. The COT shows such buying not only with fund short covering but new buying by index and other funds. But this doesnít yet translate to a reversal in the market.
The Real is not reflecting a good economic picture for Brazil, in spite of Bolsonaroís fiscal advances. Reports talk about tightness in the coffee market but as far as I know carryover stocks are still abundant.
Yet, this week the market was able to almost penetrate 110.00 to close at the highs. Weíll see if the strength continues and if the theory holds of a high call exercise plus higher prices equal a strong Monday. Funds are covering in Robusta as well.