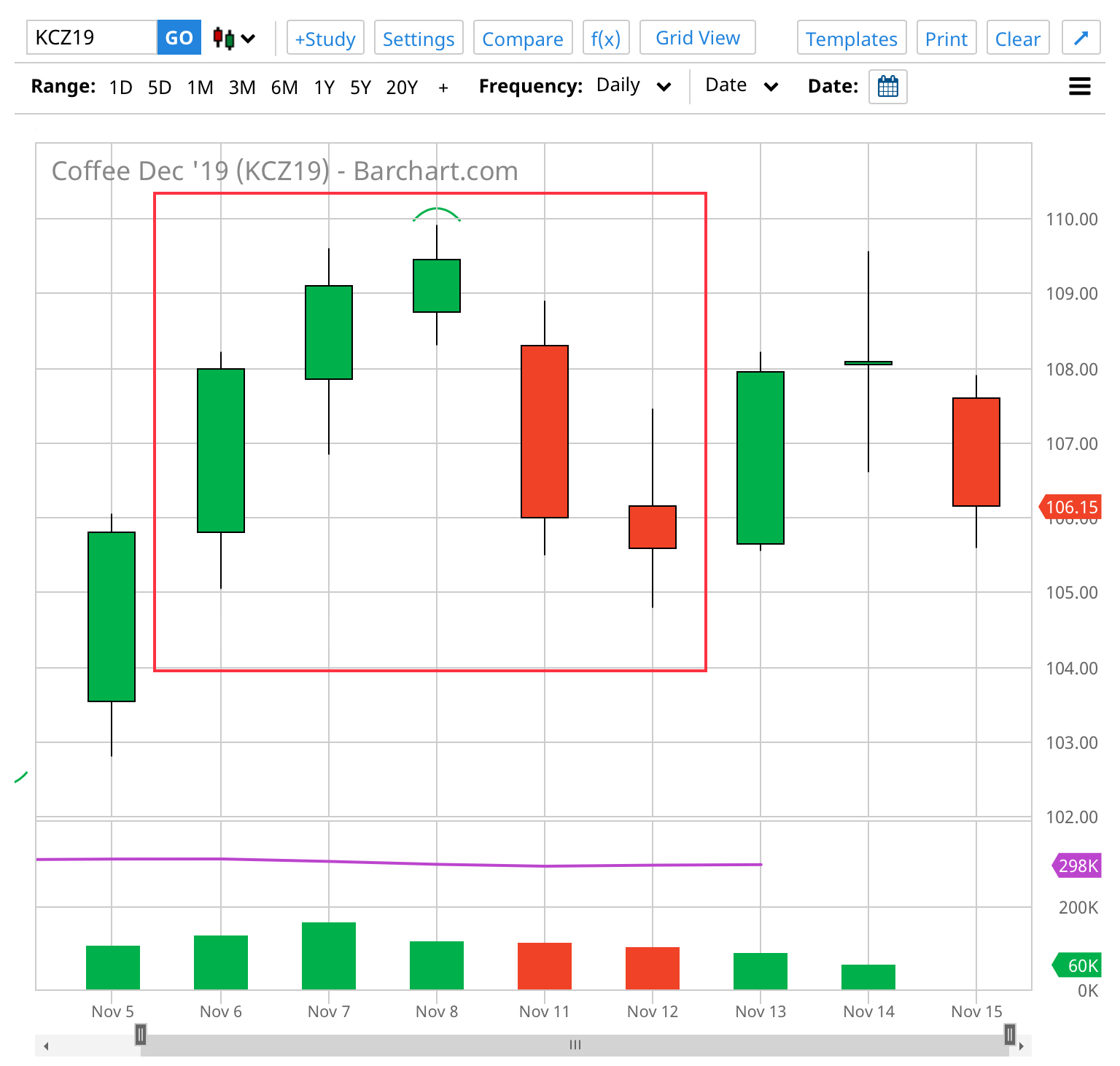 Dec19 was still the month in focus in the period covered by the COT. The chart shows continued strength from the week before up to options expiration. Then we had a sharp correction on Monday and then renewed strength. The market had a net change of -.20 but COT reports show big changes in both KC and RC. Of course, besides option expiration in KC, we had additional Dec liquidation in the form of spreads, EFPs and EFSs. But, RC had no expiration activity and the OI in Nov RC began with a mere 738 lots, and so the changes in RC reflect mostly short covering. The dramatic KC changes that we see are therefore not entirely due to spreads and options. Strong fund short covering did take place in both markets. The sellers were of course commercials, but not entirely.
In both markets we have Swap Dealers that liquidated longs. We know that this category includes a combination of end users and institutional entities. I don't believe that end users would sell back what they bought. Or am I being naive? Large Traders liquidated longs in both markets as well. The Small Traders activity is deceiving because the CFTC adjusted the error from the previous week. However, it looks like they sold around 2,000 lots.
As far as market implications, prices were certainly firm and bounced up several times from JuanV's 105.00 price, which is the level where we stopped in Dec yesterday. Hopefully Juan will share his thoughts for the week ahead. In March the 110.00 area seemed to be the level where the market found support, repeatedly. However prices penetrated this level with much more ease yesterday.
The selling that we have seen in the forwards was missing for the last two days. Of course it was a holiday yesterday in Brazil. The weakness of the Real seems to attract forward selling especially when KC prices are firm. It seems to attract spec short selling as well followed by short covering during the close on most days. Funds of course are not sensitive to the Real and are certainly in the covering mood. Several funds are flat now as the number of short funds dropped from 82 to 70. Hopefully we will see more covering this coming week. Funds have also been known to go long. Each week we see new buying taking place. If the market eases however, we will see good support coming from mostly commercials who will buy weakness as they sold strength.
On Friday the market managed to end above 110.00 in March on the post close. The tone of the market is more positive than negative in spite of a weak Real, mixed technical signals, resistance from several sectors, especially commercials, and improving weather conditions in Brazil. I leave this last point for the weather experts to comment on but it seems to me that conditions are still less than ideal in several parts of the country.