Indices:
Lower prices set to be cure for low ag prices next year, decade-
Bloomberg Intelligence December 02, 2019
This analysis is by Bloomberg Intelligence analyst Mike McGlone. It appeared first on the Bloomberg Terminal.
Bottoming agriculture prices are looking ahead to the next year and decade with more favorable underlying conditions for advancement, in our view. Top of the list are the record-high dollar and trade tensions. The greenback's limited further upside vs. mean-reversion potential tilt our outlook for ag prices toward retracement of the bear market since 2011 — the year the trade-weighted dollar bottomed. Trade tensions are unlikely to worsen, but rising weather volatility appears a more entrenched trend, with implications for supply.
Ten-year lows in the Bloomberg Agriculture Spot Subindex earlier in the year and record managed-money net shorts set the stage for an ag price recovery, potentially like gold. Softs appear sold out and are showing divergent strength vs. accelerating depreciation in the Brazilian real.
Peak greenback required for sustained agriculture price recovery -
We expect the agriculture sector to look back at the latter half of this past decade as a price foundation. Many stocks-to-use measures appear in early days of backing away from multidecade highs. Low prices are resulting in high U.S. producer financial stress and limiting supply. A peak dollar is primary price support pillar.
Record short agriculture may follow gold.
The more about as-bad-as-it-gets conditions fade in the rear-view mirror, the more agriculture prices are tilted favorably, in our view. Multi-decade highs in stocks-to-use, trade tensions and the strong dollar are primary ag price pressure factors the past few years, and they're unlikely to worsen. We see recovering prices toward the end of this decade looking ahead to the mean-reversion potential in the next. Our graphic depicts a key measure of the extent of the negative price sentiment — managed-money positions reaching record net-short this year. On the mend from 15% short to about 5% nearing the end of November, positions are still well off the historic mean of about 7% long in the database since 2006.
Gold positions achieved a similar extreme last year, setting up six-year highs this year. So did Treasury bonds.
Harvest 'meh' — Soybean bulls are in need of a real recovery -
The Brazilian real needs to stop depreciating for a sustained soybean price recovery, in our view. Divergent strength is our takeaway for the oilseed, despite the real's retreat of about 7% this year. The currency appears on the brink of breaching 4.2 vs. the dollar, which would likely pressure soybeans toward good support of about $9 a bushel. Further declines in the currency will weigh on the recovering oilseed, up about 3% in 2019. Our graphic depicts soybeans being held down by a 60-month average and the depreciating real vs. the dollar.
Brazil is the world's largest exporter of soybeans, sugar and coffee. In the past 10 years, measured annually, the Bloomberg Softs Spot Subindex is 0.73 correlated to the real-to-dollar exchange rate. Soybeans are 0.55 correlated. The graphic depicts the 60-month correlation.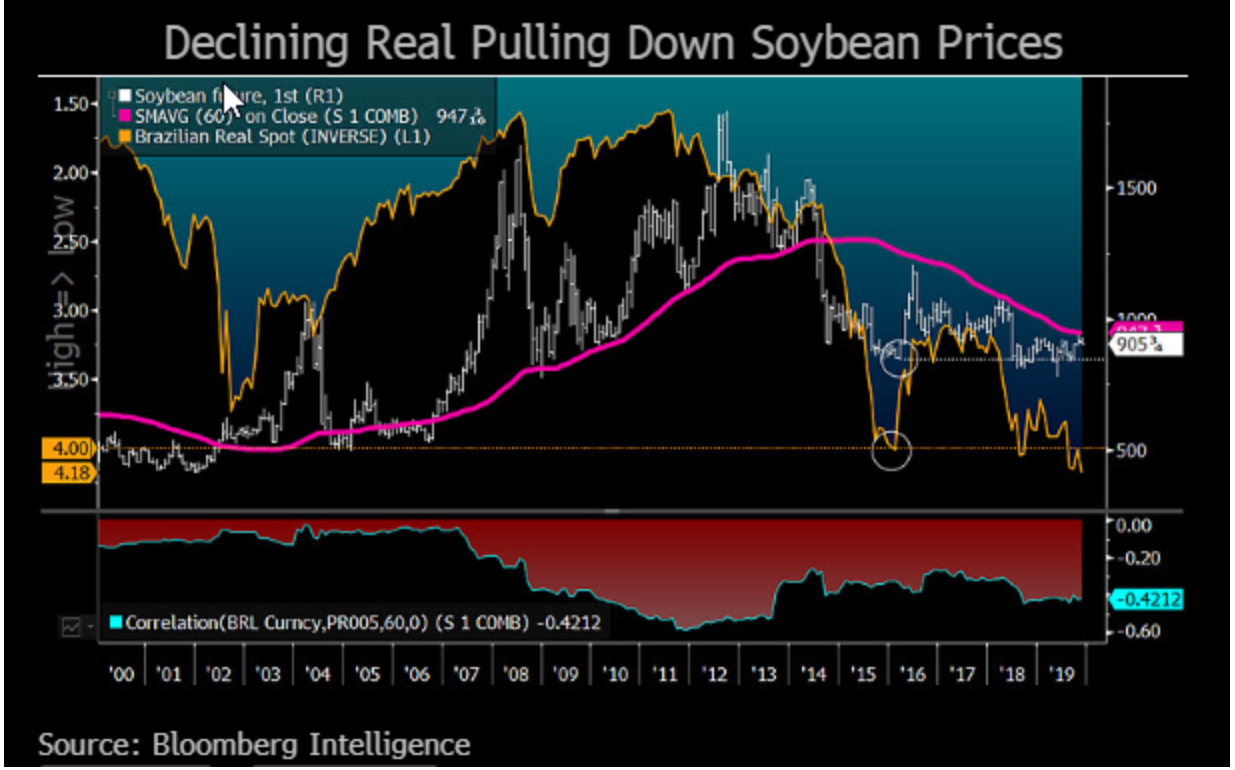 Prices will only go lower is good mindset for a softs bottom-
Soft commodities may have achieved oversold status similar to gold and Treasury bond futures last year. Combined sugar, cotton and coffee managed-money positions are recovering from record net shorts and showing divergent strength to the weakening Brazilian real. Low prices may finally be curing oversupply.
Sugar downside limited until shorts squeezed-
Short-covering risks don't get much more elevated in sugar. Managed-money net futures positions appear to be in the early recovery days from the greatest short in the database since 2006. Since CME-traded sugar futures (the world's benchmark) dipped below 11 cents a pound in September for the first time in about a year, net positions have sustained just over 20% of open interest. Prices have recovered, but should continue appreciating, at least until the bulk of positions are covered.
Our graphic depicts what appears to be a minor price blip, up about 8% in the front March future since the lows. Fundamentally oversupplied and suffering with a weak Brazilian real, it's unlikely prices will depreciate further until shorts are fully covered. Such extremes can often mark longer-term price bottoms.