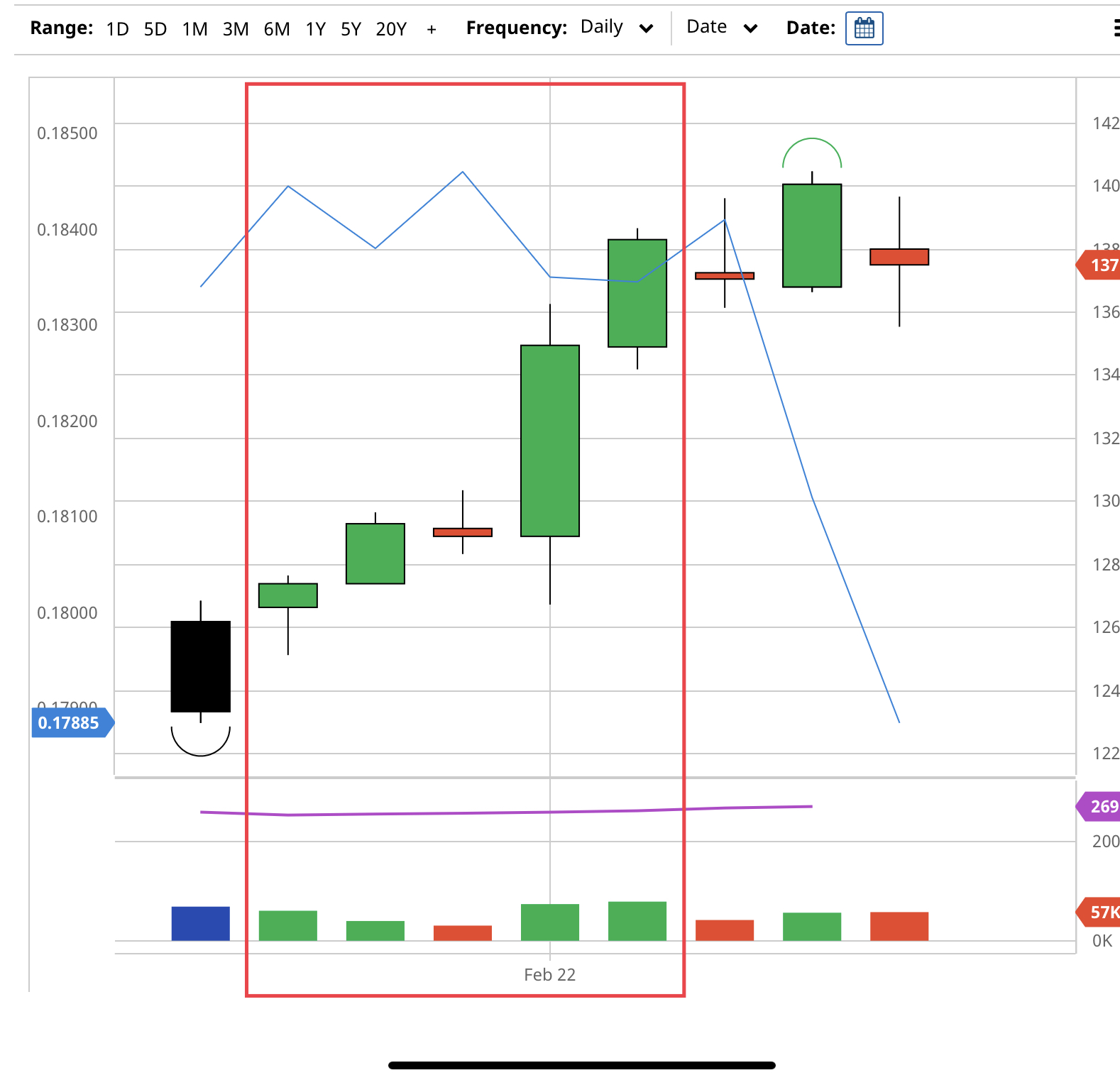 BLUE LINE = BRLUSD
After being rejected repeatedly at 130.00 the market began in the mid 120.00s. The buying was persistent however and we see the cause and effect by looking at the COT report together with the chart provided. The buying has been significant in both markets by managed money resulting in a range of 13.50c, a net change of +12.10c and a high of 138.65. The open interest climbed as new buying by every group took place except for swap dealers, who had bought the week before, probably institutional, and of course commercials who were significant sellers in both markets.
The market again defied the falling Real. It was not ignored by origin however, as they continued to sell into 2023, and into strength. As a result, spreads dropped in value but also showed resistance. For the days following the COT report, it was more of the same. The Real continued to fall, as the USDBRL ended on Friday at 5.5986 +0.0678 (+1.21%). Commercials continued to sell and managed money continued to buy. Brazil origin continues to fill the warehouses while other origins are withdrawn, as Brazil exceeds Honduras as the greater depositor if bags pending grading are considered. Although forward origin selling together with an anticipation of tightness in some delivery months may provide strength in some spreads, the ever increasing stocks and the increasing net long spec position may counter the positive spread trajectory. For the market itself the ambivalence of direction cannot be avoided.
On the one hand we have the coffee community acknowledging the damage of plants as a result of the hot summer drought in parts of the growing areas. Ganes continues to be cited and warning us of the perceivable damage and Rabobank as well as others have predicted lower production estimates. As well, there is a macro situation present where all markets seem to be reacting to economic factors in unison. On the other hand, the situation, to me, resembles a mini picture of the circumstances of the '14'15 market.
Back then, drought had developed in the northeast of Brazil and the market took off. However, stocks on hand were high and the Real was dropping sharply. Conditions are similar to today's market but much less profound. Nevertheless, for now a steady market prevails as funds are aggressively buying in both KC and RC. Consumer countries, at least, are the beneficiaries of the vaccines. Cafes will be opening in the near future. The damage of the drought and the macro picture are not going away. If the market does break 140.00 and holds, then 150.00 will be the next target. Unlike '14'15, prices are certainly not moving similarly. The month of February 2014 the market closed almost 60 cents higher from the previous month.