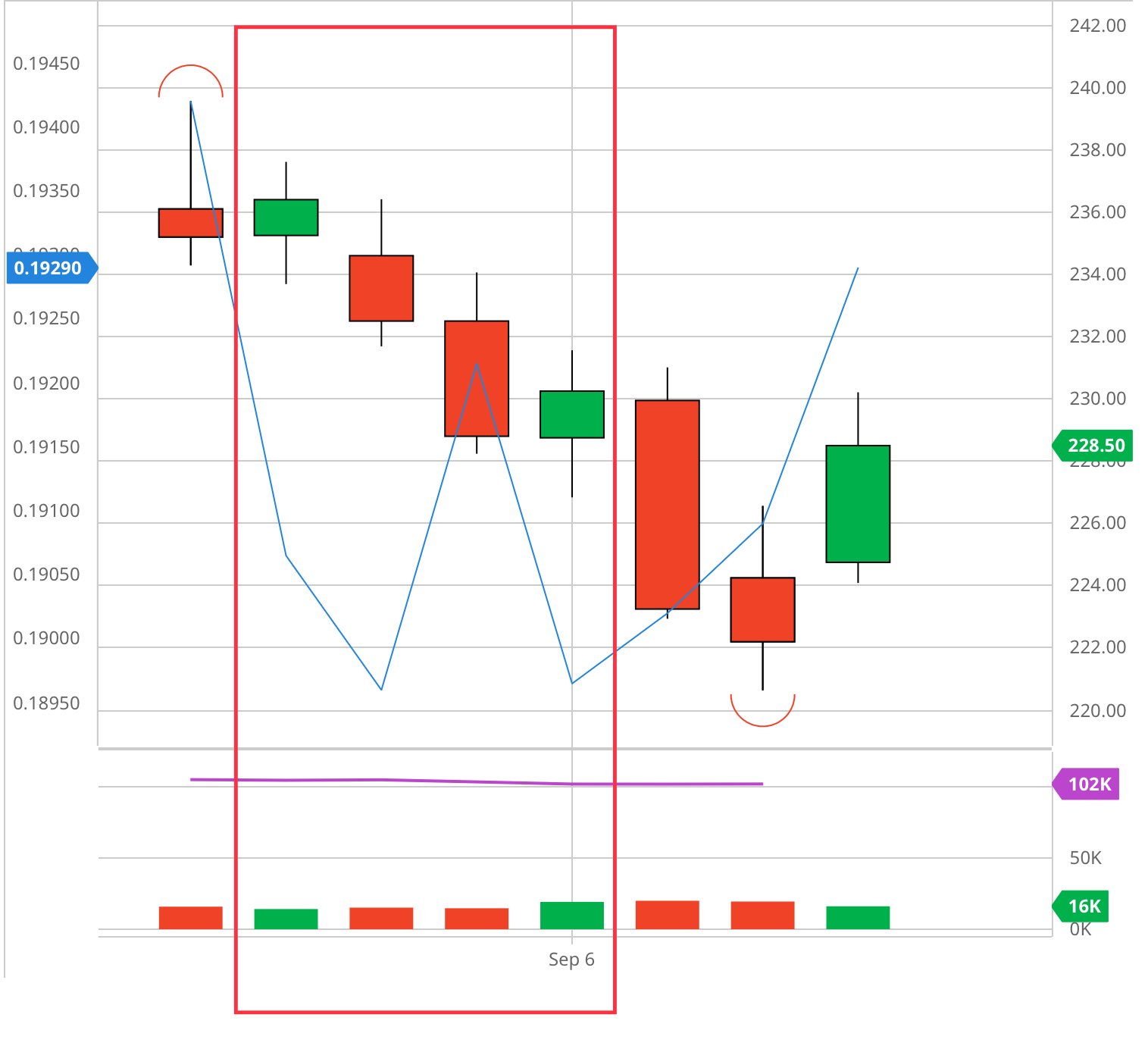 BLUE LINE = BRLUSD
The market continued its weakness from the start of the COT period and slowly and stubbornly dropped for the remainder of the 4 day week. Funds likely began as buyers but ended up as sellers. The changes in the COT report reflect how each sector ended up. Possibly due to the Monday US holiday, activity declined as traders may have stretched their hiatus. Ranges shrunk as did volume in both outright and spreads. The remainder of the week following the COT period continued to be similar, where weakness prevailed, ranges remained mostly narrow and volume remained low. Friday however, was a strong market where a rally held, at least to the 230.00 area. Of course, V22 option expiration was a factor as hedging and un-hedging took place. During the post close on Friday, some strength was evident as the market again approached 230.00. Very possibly, delta shorts were responsible. Hopefully, Monday will see a more viable market, but for now we have a thin, illiquid market with small players both in outright and in spreads. There were no surprises in exercised and abandoned options.
Although funds were mostly sellers in both markets, they likely reverted to buying, at least in KC on Monday. RC showed strength throughout the period including in spreads. In KC, spreads generally trailed the outright market. The front two spreads, Z22H23 and H23K23, remained on the defensive throughout. In spread options, interest continued to be present in fences and in spreads, to supplement the absence of any size in the futuresí spread quotes.
The market seems weary. It is boxed in by commercials and propelled by speculators, in the form of funds and by those who move the market with little volume. To me, coffee futures is for now a not very viable market. Possibly, the physical market is more realistic.
The following site has a good commentary on what is generally believed with regards to fundamentals:
https://www.barchart.com/story/news/10121503/arabica-jumps-on-concerns-about-a-smaller-coffee-crop-in-brazil