Welcome and thank you for such an incredibly interesting post Mauriz. Nellie Melba seems to have had a considerable amount of jewellery and other items from Cartier. A sewing box surprised me!
According to Margaret Young-Sanchez in
Cartier. The Exhibition
Nellie Melba purchased a diamond necklace for herself from Cartier on 1 April 1902. A stock item, it had eleven hanging diamond bows with framed diamond drops. The central diamond drop was about 10 carats and the other drops featured diamonds of around 5 carats each. Although Melba is known to have worn the jewel as a necklace, she had a tiara frame made for it and was later photographed with her father wearing the tiara and also painted wearing it by the artist, Baron Arpad Paszthory, presumably during her 1903 tour of Australia.
Unfortunately, there is no mention about whether the jewel survives or belongs to the Vestey family.
Wearing the tiara in a photo with her father.
Detail showing the tiara. The diamond bows are clearly visible.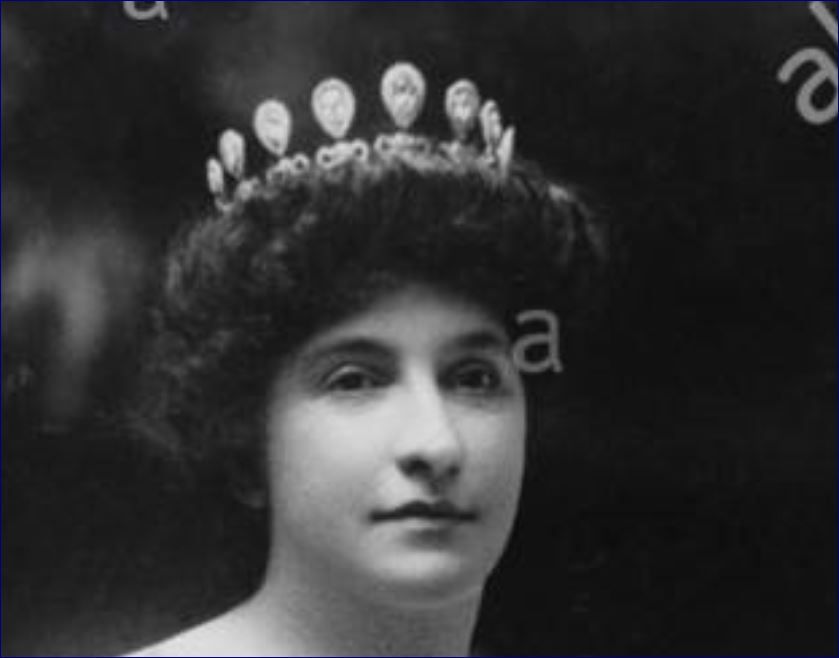 Painting by Baron Arpad Paszthory
The painting is now in the University of Melbourne collection and on loan for the Cartier exhibition.
https://grainger.unimelb.edu.au/news/Melba-on-vacation