Peridots don't seem to have been the gemstone of choice. Perhaps it is the difficulty in finding large stones with good colour without brown undertones, perhaps it was just that, because they were considered a less valuable stone, few opted to use them in grand jewels.
Perhaps the most famous parure with royal connections (except for the Hapsburg parure) was the suite given by George IV to a Miss Cotes, either Charlotte or Lucy, who had been attendants to Princess Charlotte. When the suite was placed for auction the UK government placed an export ban on it. Today it is in the V & A collection. To see the history of this jewel click on the "Download PDF version" in the link for the V & A.
http://collections.vam.ac.uk/item/O1263560/set-of-jewels/
The V & A also has some excellent photos.
I have read that Edward VII favoured peridots, but don't know if that is accurate.
The Irish freshwater pearl which Lady Dudley gave to Queen Alexandra was widely described in the press as being set with peridots, but I have never seen an image of a brooch which matches the description.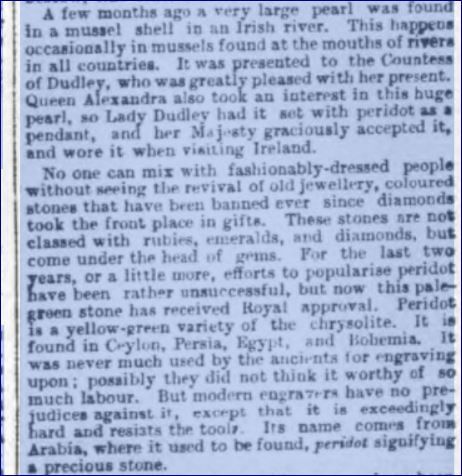 Most of the Cartier exhibitions in recent times seem to feature a grand necklace and bracelet with large peridots. According to the catalogue for the Canberra exhibition Cartier made the suite using the peridots of a mining magnate, Chester Beatty. It was made by Cartier, London in 1936.
I find the bracelet interesting in that it has a mixture of faceted and cabochon stones.