The bracelet worn by Queen Charlotte has been on my mind all day as I think I was wrong in my initial guess that the bracelets depicted were part of the wedding gifts the Royal Collection referred to. In the grand portraits the bracelet with the portrait of George III has the miniature surrounded by diamonds. In the painting by Benjamin West which ErikS posted the surround to the central element is unadorned gold.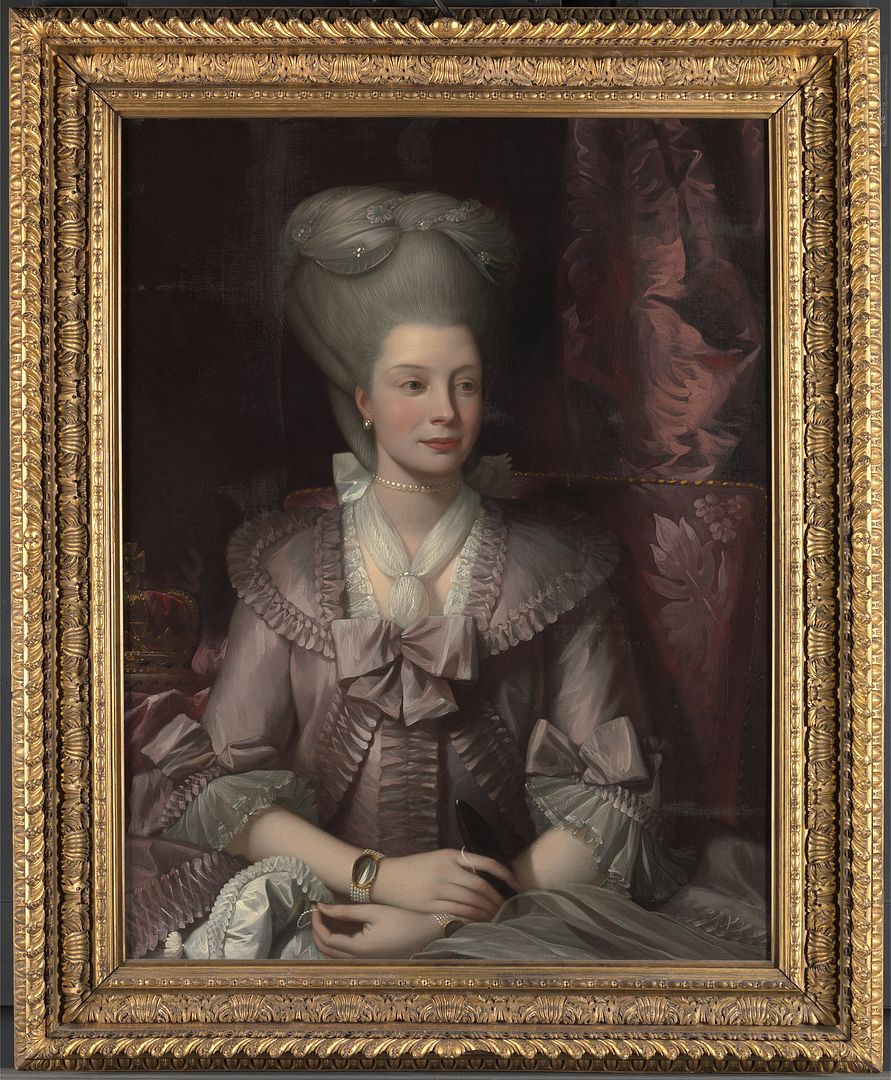 The painting appears to be a companion to another portrait of Queen Charlotte painted by West in 1776. In this painting the central element of the bracelet is not shown. (RCIN 404573)
https://www.royalcollection.org.uk/collection/404573/queen-charlotte-1744-1818-with-charlotte-princess-royal-1766-1828
The Yale Centre for British Art, which appears to have acquired the piece formerly in the Paul Mellon Collection, dates the portrait posted by ErikS as 1877.
The zoom feature on the Yale site is excellent
https://collections.britishart.yale.edu/vufind/Record/1668620
With the zoom feature I am less inclined to think the central element has a portrait of George III, but I still feel that West depicted either a glass cover or a diamond cover to the central element.
Neither of these two portraits by West are grand state pieces, rather they depict intimate domestic concerns so while the Queen is depicted wearing significant jewels, they are not designed to reflect the majesty of the monarch.
I feel that the painting posted by ErikS shows a miniature as the central element and because West was depicting a more intimate scene I suspect that the miniature would not have had a diamond cover, but anything I say is merely a guess.