Edited for a spelling typo.
I recently stumbled across reports of a wedding gift to Queen Alexandra which was unknown to me -- the gift of the Ladies of Hampshire and the Isle of Wight.
So far I haven't found any sketches of this gift, a bracelet with a cross and the heraldic rose of Hampshire.
As I had never heard of "the cross of Wykeham" I tried to find what it would look like. Eventually, I found this report -- it was a new invention, so what it would have looked like is anyone's guess.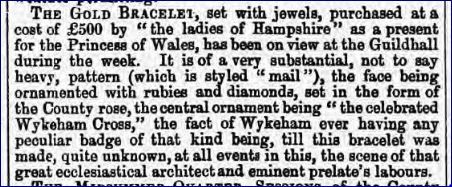 For information about Wykeham, himself, see
https://en.wikipedia.org/wiki/William_of_Wykeham
The rose of Hampshire was another thing I knew nothing about. It turns out to be a version of what I would call a Tudor rose.
https://www.hgs-familyhistory.com/2013/02/the-hampshire-rose-origins/
I wonder if Queen Alexandra was ever photographed wearing this bracelet? I haven't yet checked to see if the description matches any seen in the early years of her marriage.