Good morning all,
I hope we are all keeping safe and well, looks like this nightmare might be finally coming to end soon
I'm writing a short piece on Wallis Simpson's headpieces.
This one in particular is proving tricky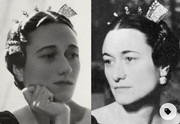 Some people say it's Cartier but I swear I've read that it was Van Cleef.
Some people say it is Diamond and Ruby but I was just reading my copy of Van Cleef and Arpels by Vincent Meylan and he describes a wedding present:
" Second was a hair ornament, set exclusively with diamonds, it was accompanied by a set of clips , large and small, that could be attached to the armature to make it more imposing or be worn separately' Do we think this could be it?
Also, this piece was apparently in the Ednam Lodge robbery but I read the list of missing items in Suzy Menkes 'Royal Jewels'and it doesn't list a headband, just a lot of Aquamarine jewellery.
As always, any help on the matter would be much appreciated.
Thanks
Sam