When the newly married Duke and Duchess of Edinburgh returned to London in 1874 a series of ceremonial occasions were held to mark the marriage and welcome the Duchess to England.
One was a Drawing Room for which Queen Victoria, in contrast to her usual habit of delegating it to Queen Alexandra or another senior royal lady, appeared.
According to the press the Duchess of Edinburgh wore a sapphire and diamond necklace and brooch.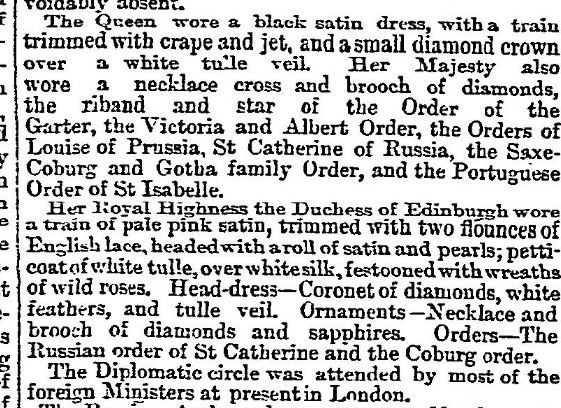 Below is the only visual representation of the occasion I can find. The question is how much we can rely on the sketch, but it is possible that this is meant to represent the necklace.
As the Duchess of Edinburgh wore this necklace for her first attendance at one of Queen Victoria's Drawing Rooms, given the incorporation of the three floral symbols, it is probable that it was designed as a compliment to her mother-in-law to be worn on this very occasion.
Her daughter, Victoria Melita, Grand Duchess Cyril wearing the parure