Foteini Georganta and Prince Rostislav Romanovsky's wedding was on September 12th and she wore some interesting jewelry. For the wedding ceremony the bride wore a tiara and earrings by Russian jeweler, Axenoff. The tiara is a custom version of the Russian Paris Tiara with blue topaz instead of malachite and the earrings look to be just the top portion of the Russian Paris Earrings again with blue topaz instead of malachite. According to Tatler this jewelry will be auctioned to benefit the Romanov Philanthropy Foundation.
Tatler: How was the Paris wedding of a descendant of the imperial dyna
Axenoff: Russian Paris Tiara
Axenoff: Russian Paris Earrings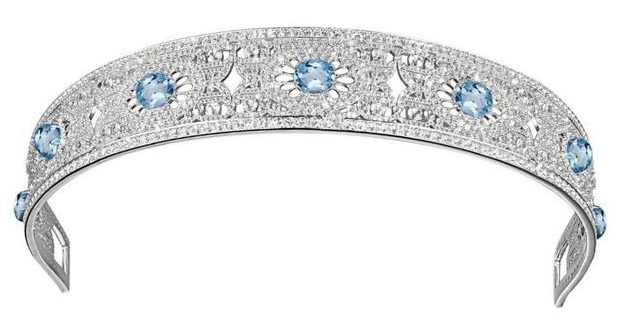 Then she changed jewelry for the reception.
This is from the Tatler article but it's been run through Google translate and I feel like some things have been lost in translation. "Special mention should be made of the jewelry, which the bride chose for the gala reception after the wedding. As expected, each has its own history and noble origins. The head of E. I. V. Princess Romanova was adorned with the family tiara-bandeau with diamonds and garnets of the 1910s. Her pearl earrings are even older, dating from the 1890s. Also, the bride wore a hairpin that belonged to Princess Xenia Alexandrovna."
I don't see any garnets in the tiara but her ring does seem like it's garnet. Then someone named Sebastian commented under my tiara alert on Instagram, "The tiara is a 1910 platinum filigrane and diamond bandeau with onyx in the middle… from her family, same with the hearings… diamond and pearls XIXth century work, the Brooch is an onyx and Diamond one once belonged to Grand-Duchess Xenia and with her monogram in platinum and diamond, the ring is designed by HH Prince Rostislav Rostilavovitch." I don't know who this person is so take it with a grain of salt but their explanation of the jewelry makes more sense than the translated Tatler article.
Vogue: https://www.vogue.ru/lifestyle/posmotrite-na-fotografii-so-svad
Update: I just found an article in Russian Vogue that has jewelry info too. "At the reception, the princess wore her family tiara with a diamond bandeau from the 1910s. Her drop earrings are also a family heirloom dating back to 1890. On the collar of the bride's wedding dress was a pin with blue enamel and diamonds, which belonged to the Grand Duchess Xenia Alexandrovna."
All of the info is just slightly different but I guess the only Romanov piece left with the family is the brooch.