Yes, the first lady is Helen Percy, Duchess of Northumberland, the Mistress of the Robes to the Queen Mother, wearing the
Northumberland Strawberry Leaf Coronet
.
That page at the Queen's Coronation is the current Duke of Devonshire, who was the page for his grandmother, the Dowager Duchess, the Mistress of the Robes to the Queen, who wore the
Devonshire Palmette Tiara
and her
Opal Necklace
. IIRC, his mother,
Deborah Mitford, Duchess of Devonshire
, wrote that he was the youngest page in her account of the coronation, though I cannot seem to find that now.
UPDATE: I found the extract from the Duchess' memoir:
"In 1953 Moucher was made Mistress of the Robes to the new young Queen. One of her duties was to arrange the rota for the ladies-in-waiting and I can see her, head clasped in hands, saying, 'I must get through' – the expression for telephoning – 'about the Waitings.' Hers is an important job, even in everyday life at Court; at a coronation the role is vital. I was not planning to go to the ceremony as I was pregnant with my fifth baby, due around the end of June. When the baby was born too soon and did not survive, I was not in the mood for celebration and stayed quietly at home trying to recover. As weeks went by someone suggested it might be cheering for me to go after all, especially since Stoker was to be page to Moucher and carry her coronet during the procession. To allow Stoker to take such a prominent role was a big concession on the part of the Earl Marshal, who was in charge: the minimum age for pages was twelve and Stoker was only just nine, but he was considered 'reliable'. Moucher and Andrew encouraged me to go and I am so glad that they did.
"Then came the problem of what to wear, as obviously Moucher was to have the robes that had been carefully put away by Granny Evie in 1937 after King George VI's coronation. Chatsworth, as always, came to the rescue. There were a number of tin boxes containing old uniforms and other relics. In the vain hope of finding something for me, we started going through them and, lo and behold, from beneath a ton of tissue paper in the box that had held Moucher's, appeared a second crimson peeress's robe. The velvet is of exceptional quality, so soft your fingers hardly know they are touching it, and of such pure, brilliant crimson as to make you blink. Miraculously the robe fitted; we had found what we were searching for. But there was a hitch: unlike other peeresses' robes it was cut off the shoulder. Moucher or Andrew asked the Queen's permission for me to wear this irregular style and it was granted. Stoker wore the uniform last worn in 1911 at the coronation of George V, and it was not a bad fit. "
Excerpt From: Duchess of Devonshire, Deborah. "Wait For Me."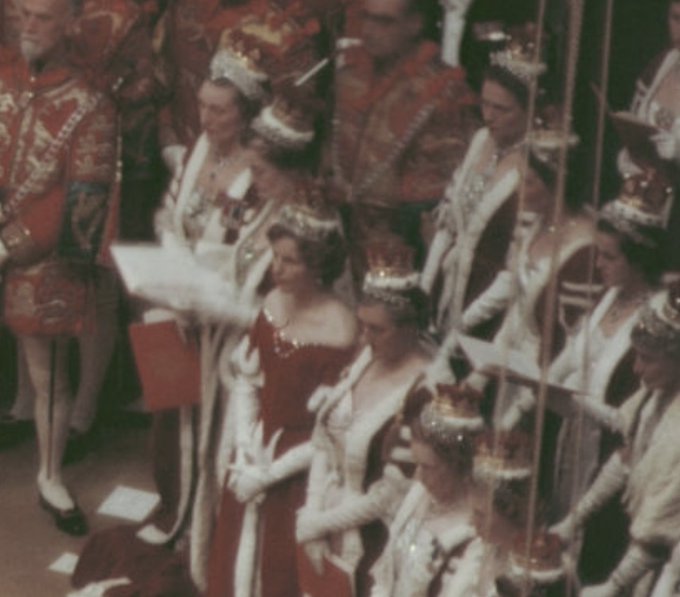 "All was then plain sailing and the organization faultless. Stoker was whisked away to find his Granny, while I joined the female side of the congregation and Andrew the peers. I have never seen a photograph of the massed peeresses and it is a pity if there is none because, young and old, they made an extraordinarily beautiful sight. They had worked hard to look their best: the country ones had been to the bank to get out the family diamonds and the town ladies had spent early hours at the hairdresser with splendid results. Everyone was dressed alike (except for me with my bare shoulders) and the effect was like the chorus in a sumptuous film production.
All eyes were on the monarch, who was dedicating herself to the service of her people. When the Archbishop of Canterbury placed the crown on her head the peeresses put on their coronets and the sea of arms in white gloves rising in unison was unforgettable. The Abbey was lit for television cameras and the dimmest corners were visible for the first time. It was a spectacular and moving combination of splendour and solemnity, a bringing together of Church and State. It was a spectacular and moving combination of splendour and solemnity, a bringing together of Church and State. (I wondered what the Californian communists, my companions of the previous year, would have made of it all.) Moucher carried out her part to perfection. I had never seen her stand so straight before and it enhanced her beauty. Stoker was indeed reliable, except for one enormous yawn which happened to be caught by a photographer. I have no recollection of what happened to us afterwards, how we got home or how we spent the rest of the day, but I was keenly aware of my good fortune at being in the Abbey with history being made in front of my eyes."