PERIDOT TIARA ELISABETH HESSE-DARMSTADT - GD SERGE ALEXANDROVITCH DE RUSSIE
ELEONORE GD HESSE DARMSTADT
CECILE GD HESSE DARMSTADT
https://pin.it/3VBYsfD
EMERALD NECKLACE TIARA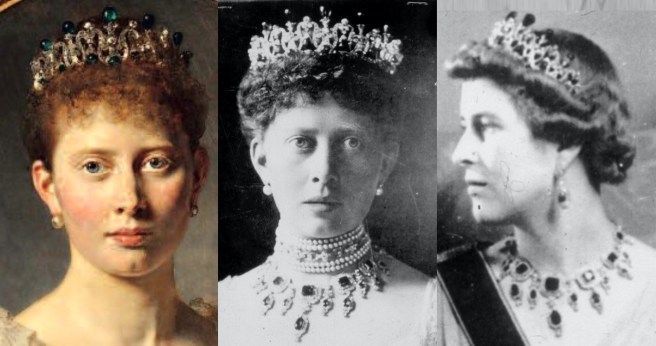 MARGARET OF PRUSSIA - WEDDING GIFT FROM HER MOTHER EMPRESS FREDERICH
SOPHIE OF GREECE - 1 - HUSBAND CHRISTOPHE OF HESSE
CREATE DIADEM TATJANA VON HESSEN with part of stolen jewels
https://royal-magazin.de/german/hessen/hessen-tatjana-tiara-emerald-pearl-royal-jewel.htm
STRAWBERRY LEAF TIARE - GIFT QN VICTORIA TO PRCSS ALICE WEDDING 1862
https://pin.it/24SA6uf
AMETHYST ? PARURE
https://pin.it/JRMRuUM
Does the Hesse family still have in their keep the below jewels?
https://royal-magazin.de/german/hessen/index.htm
https://www.historynet.com/soldiers-of-fortune/
SOLDIERS OF FORTUNE – THE HESSE JEWEL HEIST
In November 1945, Jack W. Durant, Kathleen Nash, and David Watson pulled off the Hesse jewel heist, one of the most lucrative wartime thefts in history.
In 1946, they were each court-martialed in Germany on charges including larceny, dereliction of duty, and conduct unbecoming U.S. military officers.