I have been in hibernation again!
1.
The information about the sapphire brooch perhaps being one formerly owned by Angela Burdett Coutts is not new
I think that the idea was first put forward in the public domain by The Court Jeweller.
As British Royal Jewels has blocked me, I am unable to read what he wrote.
But here is what I know.
A small number of UK papers carried the item about a sapphire brooch being purchased by Queen Mary in 1934.
Below is a cutting of the Nottingham paper that Paisley referred to.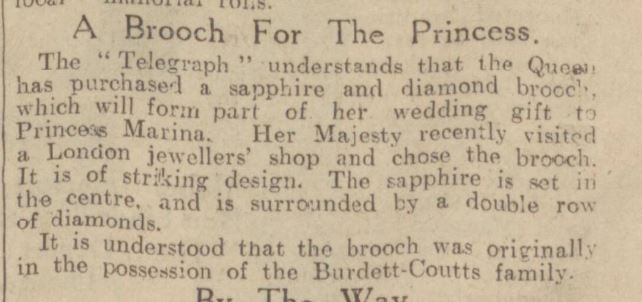 I posted about one of the sapphire brooches having been lost & then found years ago.
Apart from the fact that the lost brooch was the middle sized one in a set of 3 large sapphires no other detailed description was given.
These sapphire brooches were inherited by Angela Burdett Coutts from Harriet Mellon, who married (as his second wife) Angela's grandfather, Thomas Coutts, the wealthy banker. Later, Hariett married the Duke of St Albans. It appears that Hariett acquired most of her very grand jewels as the Duchess of St Albans. So far I have traced the 3 large sapphire brooches back to shortly after Harriet's marriage to the Duke.
Various descriptions of the sapphires have been given. Some reports say that they are star sapphires; some reports say that they had formerly belonged to the French Crown Jewels.
Angela Burdett Coutts left her estate to her husband, William Burdett Coutts, so it was either the trustees of his estate or the heirs who were selling items in 1930s.
Without a detailed description of the sapphires owned by Angela Burdett Coutts, it is difficult to gauge whether she may have owned the brooch worn by Queen Mary, QEQM & later QEII. The elaborate gold work framing the sapphire is so similar to the work on the brooch auctioned by Christie's in 2011, that I would be more inclined to back a Russian provenance -- but that does not necessarily mean that the brooch was sold by the Empress' daughters or the Bolsheviks.