Re: Bastille Day - Crown ruby necklace. Edited to show error.
Posted by Beth
on July 13, 2018, 7:56 pm, in reply to "Re: Bastille Day - the necklace that kicked the whole thing off."
I am starting this with some trepidation as I know so very little about the French crown jewels, but I have found some information which may relate to the grand ruby necklace of the parure which the Duchess of Angouleme had made from the French Crown rubies.

I find it remarkable that this necklace, now in the Louvre,** survived in the original format after it was sold when the French Crown jewels were auctioned in 1887.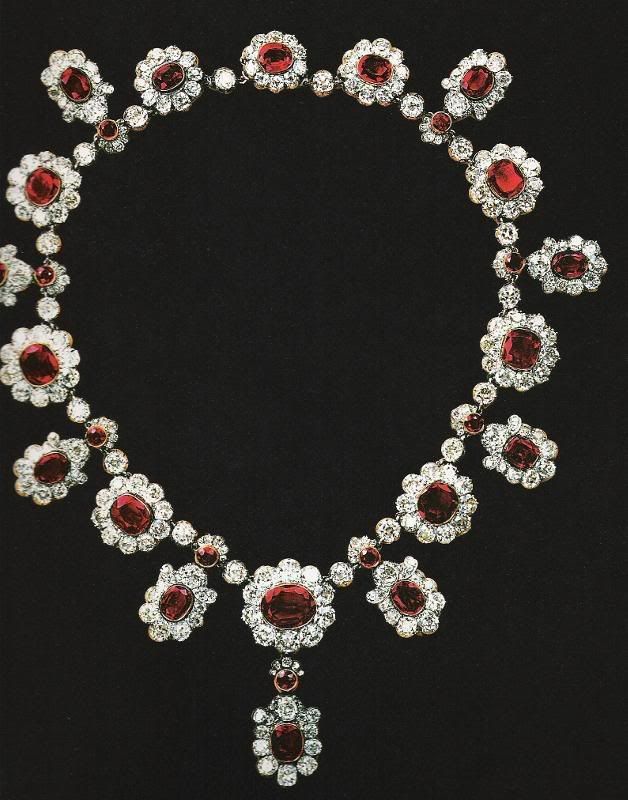 According to Vincent Meylan in Christie's The Jewellery Archives Revealed p. 166 this necklace was auctioned by Christie's in December 1982 and then again in May 1993.

I have no information about who purchased the necklace in 1982 and then placed it for auction in 1993, but it is possible that for a good portion of the twentieth century the necklace was owned by Sir George Cooper and then his descendants. The information I have is not proof positive, but!

I initially found this information when I was looking for information about Queen Alexandra and discovered that Sir George Cooper was said to have owned one of the Fleur de Lys from her crown (probably as Vincent Meylan argues in Christie's p. 67 from the Regal circlet which Queen Alexandra had made and which now belongs to the Norwegian royal family.)

Press reports of the will of Sir George Cooper noted that among items he had classified as "heirlooms" were a Fleur de Lys brooch said to be from Queen Alexandra's crown and a ruby necklace from the French Crown jewels. (These and other items were placed in a trust to be inherited by specific heirs -- or entailed as the saying is) There are numerous very similar reports - below are a few.


Telegraph 12 April 1940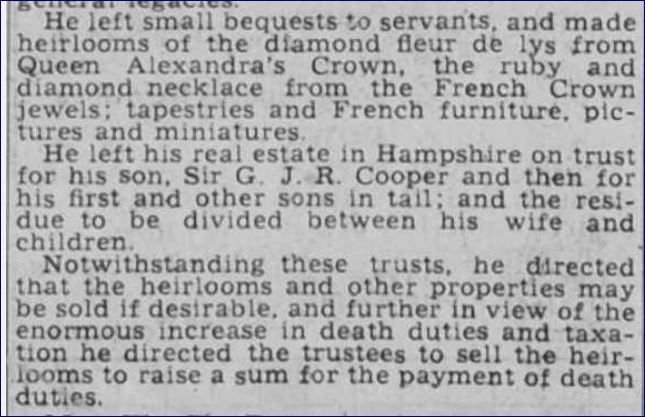 Dundee Courier 12 April 1940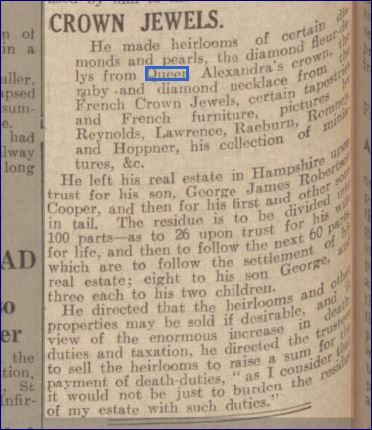 Without photograph or other detailed proof it is impossible to say if Sir George Cooper did in fact own the French Crown ruby necklace now in the Louvre, but Sir George's will described it as such. Perhaps more significantly there is evidence that his descendants applied for, and were granted in early 1982, a court order allowing for a change in a trust created by Sir George's will.

Who purchased the necklace after it was auctioned in 1982 is another mystery.

If Sir George Cooper owned the necklace now in the Louvre, the next question is when and how he might have acquired it.

Sir George's will states that he purchased the necklace from Carringtons Jewellers but does not give a date.

Perhaps the purchase was after 1923. The press in that year had a number of reports of a French Crown ruby necklace in the possession of a "court jeweller". If we ignore the reference to Marie Antoinette, it could be the necklace in question -- but I freely admit the report below and others may refer to another jewel entirely. Another mystery!!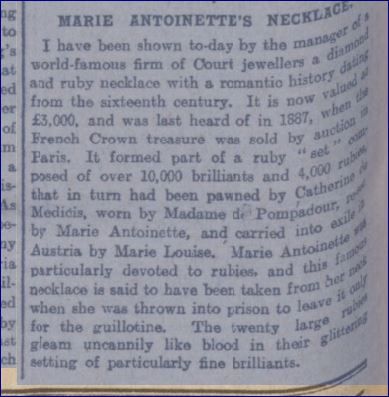 ** Edit: I was very much mistaken in saying this. See the post by Thomas http://mb.boardhost.com/historyroyaljewels/msg/1531503763.html
---