Re: Queen Mary. Wedding gifts. Various 1. Pearl and diamond chokers Edited
Posted by Beth
on August 23, 2019, 6:50 pm, in reply to "Re: Queen Mary. Wedding gifts. Various 1"
Thanks for the great photos Maridje, and to Franck for introducing this topic.

There are 3 pearl and diamond chokers which are very similar. They belonged to Queen Mary (from the City of London), to Margaret Grosvenor, Marchioness of Cambridge (from her father the Duke of Westminster) and Princess Marie Louise (from her parents?)

I know that Leslie Field states that Princess Marie Louise left her pearl and diamond choker to Queen Elizabeth II who wore it as a bracelet. I have always disputed that.

The photos of Princess Marie Louise with this jewel show that it is not as wide as the choker worn by Queen Mary.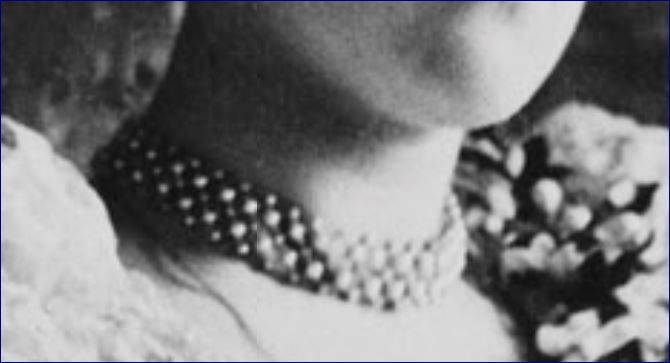 More importantly, the diamonds are much smaller than the pearls where as in Queen Mary's choker the diamonds are of a very similar size.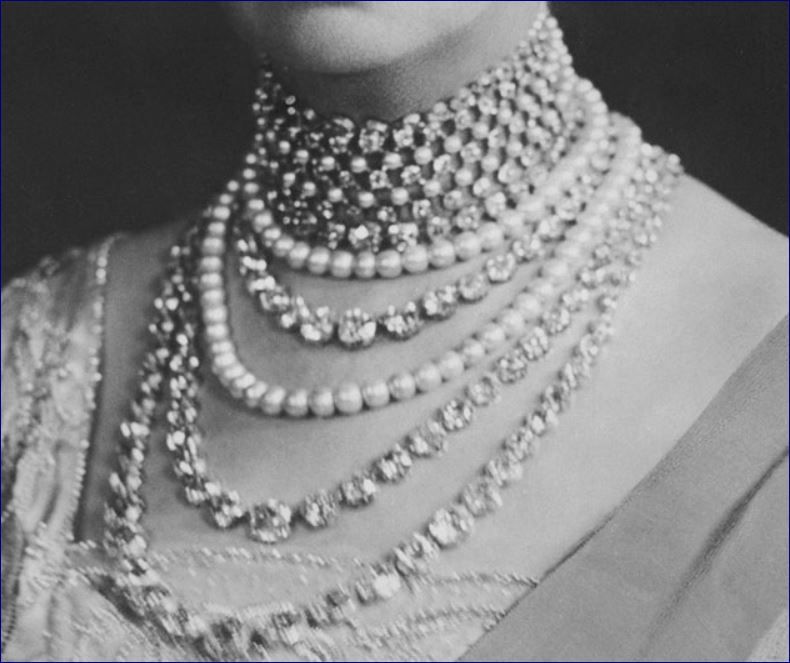 The photo which Maridje posted of QEII shows that the pearls and larger diamonds are of equal size, leading me to conclude that HM was wearing part of Queen Mary's choker.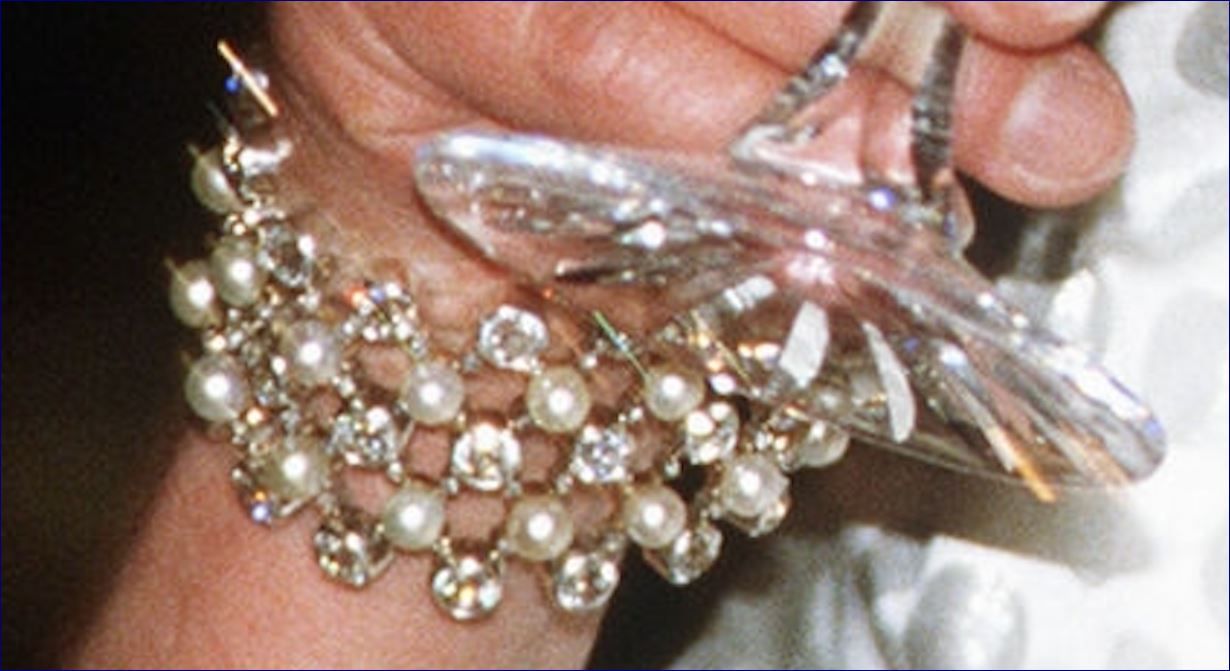 Another important factor is that Queen Mary's jewel had small rose diamonds in the links. I think that the word "robles" in this description which I posted on the RJWMB some time ago is a typographical error for roses.




In the photos of Princess Marie Louise, I cannot see any rose diamonds in the links, but I acknowledge that may just be the result of poor quality photos.

Princess Marie Louise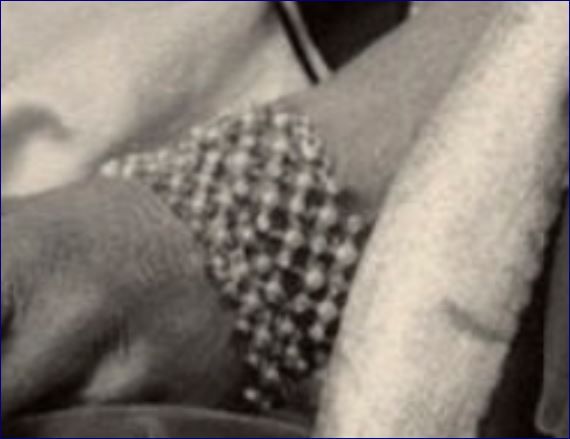 I think that the photo Franck posted of Queen Elizabeth II is too blurry to ascertain what she was wearing.

The pearl and diamond choker worn by Margaret Grosvenor, Marchioness of Cambridge, is very similar to Queen Mary's. As they were both made by Garrard that is no surprise.

Here is a description of it.




It has more pearls and diamonds than Queen Mary's, but whether that means they were of a slightly smaller size is difficult to say from the available photos or the sketch of it in the press.





It is more strongly graduated than Queen Mary's.

Queen Mary's



Margaret Grosvenor, Marchioness of Cambridge wearing her choker.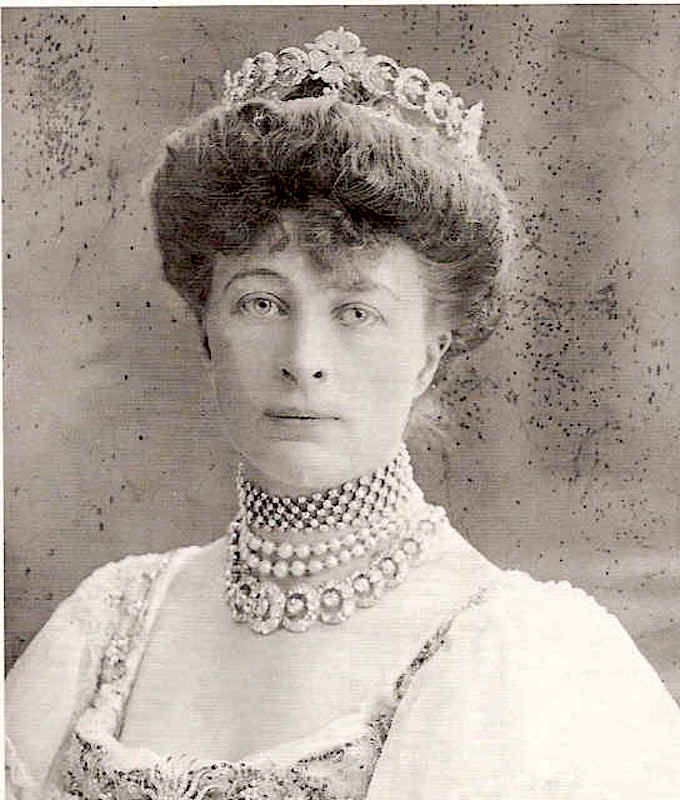 We know that Queen Mary acquired a number of jewels belonging to her mother which initially went to Margaret Grosvenor, but whether Queen Mary would have wanted a second very similar jewel to her own is another question. I suspect not.

Edit. It would appear that Margaret Grosvenor's pearl and diamond choker remained with the family, as it appears that Dorothy, Marchioness of Cambridge wore it at the 1953 coronation as a bracelet.
If that is so then I believe that the jewel worn by QEII and Princess Margaret is Queen Mary's City of London wedding gift.

---