I was always under the impression that the Indian suite of pearls, emeralds and Indian cut diamonds given to Queen Alexandra by Queen Victoria were the only such Indian jewels which were amongst Queen Alexandra's wedding gifts.
Suite of jewels from Queen Victoria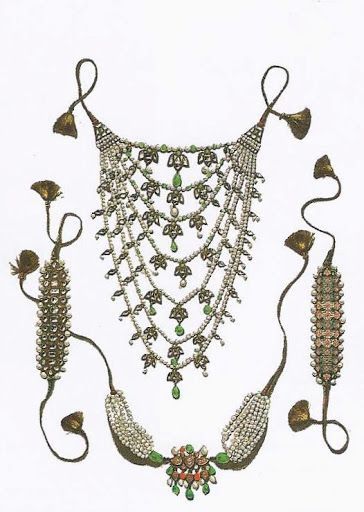 There are numerous references to Queen Alexandra as Princess of Wales wearing Indian "ornament", the latter word usually encompassing necklaces, bracelets and corsage ornaments during this era. At times the reports indicate that the jewels contained pearls, emeralds and diamonds. At other times the reports mention only pearls and emeralds. I had always assumed that despite the difference in wording that the reference was to the suite given by Queen Victoria.
Queen Alexandra wearing Queen Victoria's gift to the Devonshire House Ball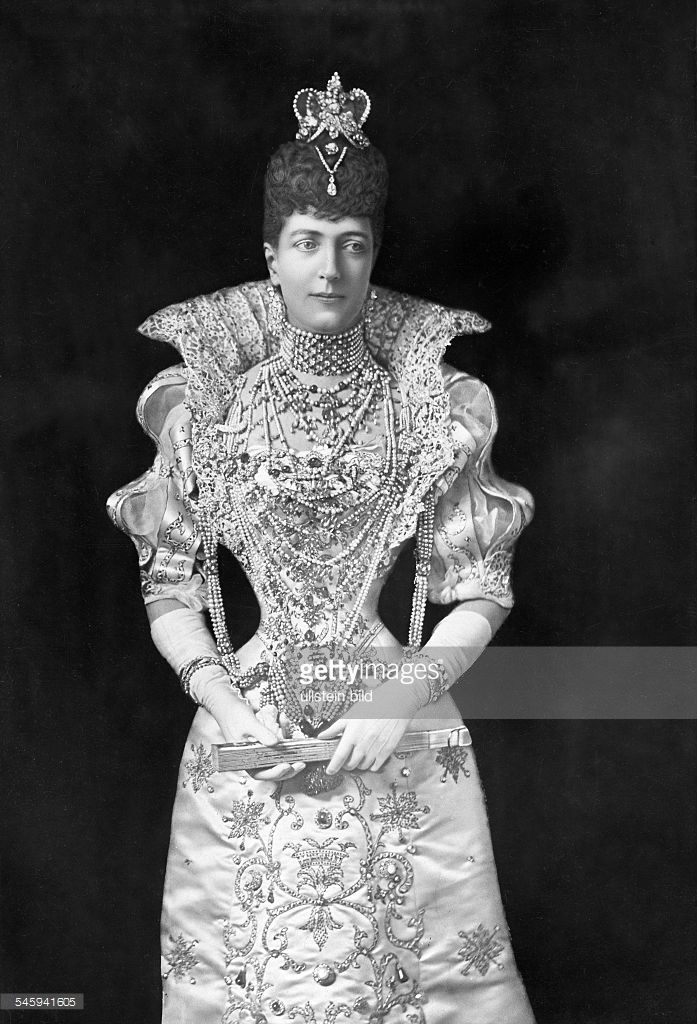 Then I discovered that several Indian rulers had given similar jewels.
Sketches of jewels containing pearls and emeralds from Indian rulers -- wedding presents to Queen Alexandra.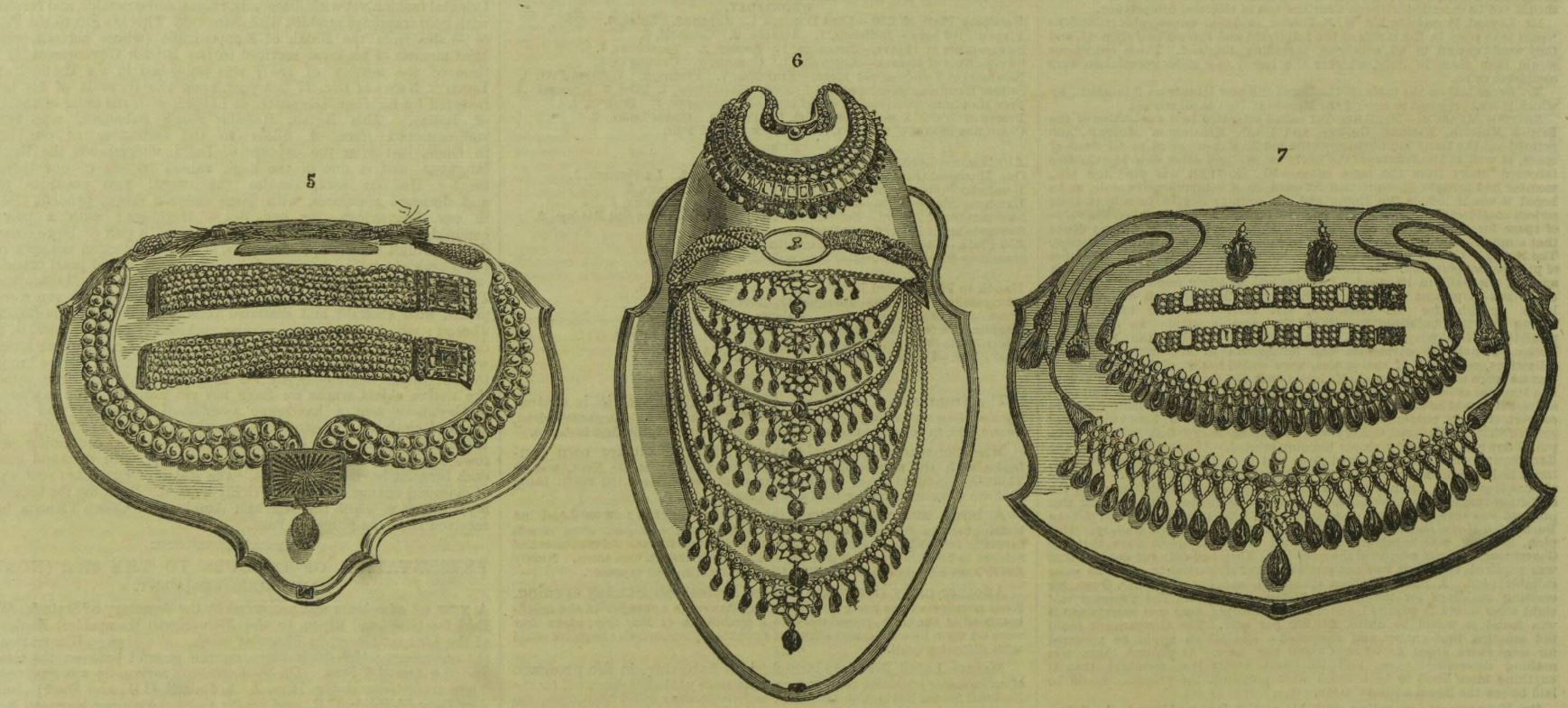 Because of how jewels were described in the press during the Victorian era, I suspect it will be almost impossible to distinguish when any particular necklace or suite was worn.
The jewel which interested me the most is number 6 in the centre. The sketch for number 6 shows 2 necklaces. I am interested in the lower necklace which has 7 strands.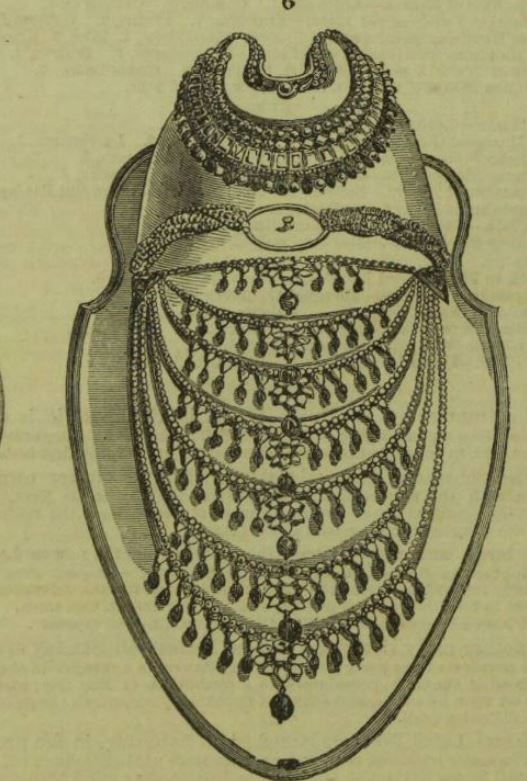 The sketch bears a remarkable resemblance to the Indian style necklace which Queen Alexandra gave to her granddaughter, Princess Mary, when she married.
Necklace given by Queen Alexandra to Princess Mary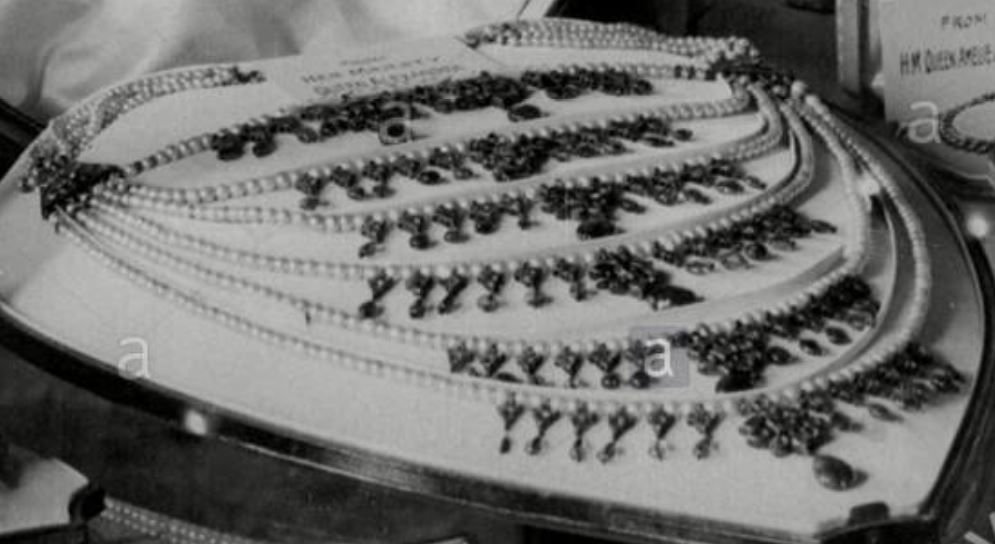 If it is the same necklace then slight alterations have been made.
First the top row has been removed and the central flower section incorporated into the new first row.
Secondly, in the original sketches the flower centre in the middle of each row appears to be made from diamonds or some other lighter gemstones.
In the necklace presented to Princess Mary the central flower elements appear to be the same shape as in the sketches, but it looks as if they are carved from emeralds.
What do others think? I think the necklaces are the same and that the earlier sketches may have given a wrong impression.
Comparison photo. Even the presentation cases appear to be the same.