The photograph of Queen Alexandra in fancy dress as Mary, Queen of Scots, was taken at the time of the Waverley Ball held in London in July 1871.
In 1871 Queen Victoria, who was not noted for sharing jewels with her daughter-in-law, was alive and unlikely to give Alexandra access to the Kent amethysts. The so called Crown ruby necklace did not exist (with rubies) until after Victoria's death.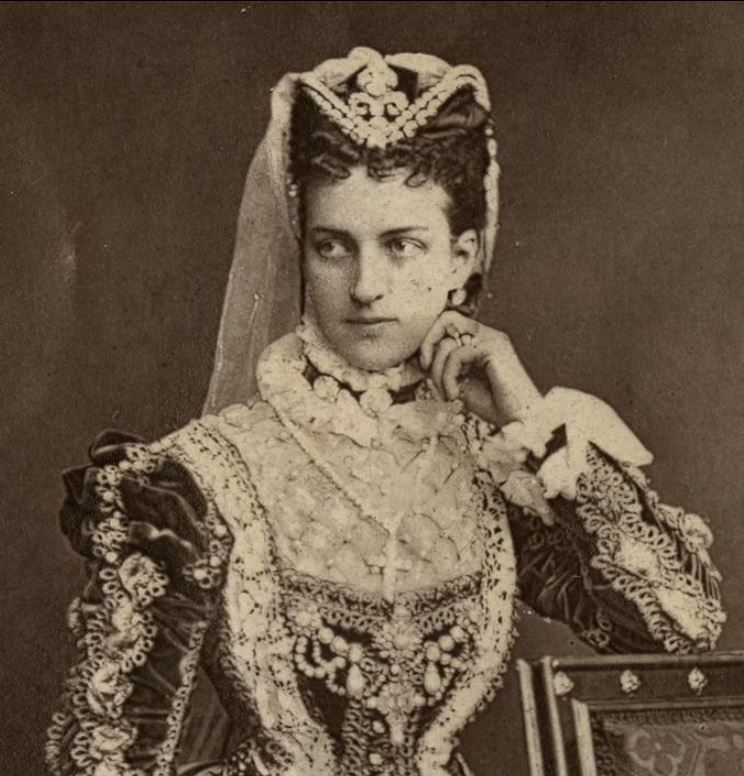 I agree with Dave that Queen Alexandra was wearing the front element from her wedding gift tiara. She was wearing the upper portion of the earrings given to her by the City of London as a wedding gift.
It looks as if some of the pearl and diamond elements from her wedding gift necklace are pinned to a velvet choker.
Hanging from her neck is a pearl necklace with a diamond cross, the wedding gift from the Ladies of Liverpool.
Across the bodice, the central section of the Dagmar necklace has been used as a corsage ornament.
But what Queen Alexandra was wearing as a girdle and skirt ornaments is something which I can only guess at. But it is clear that not all the large gemstones are the same, and that are at least two different types.
The only colour image from this occasion is the sketch done by Princess Louise for Queen Victoria, which can be seen on the Royal Collection site. Unfortunately, it is no help to us in identifying the jewels.