The sapphire necklace was definitely a silver wedding anniversary present to Queen Alexandra from her sister and brother-in-law, the Empress and Emperor of Russia.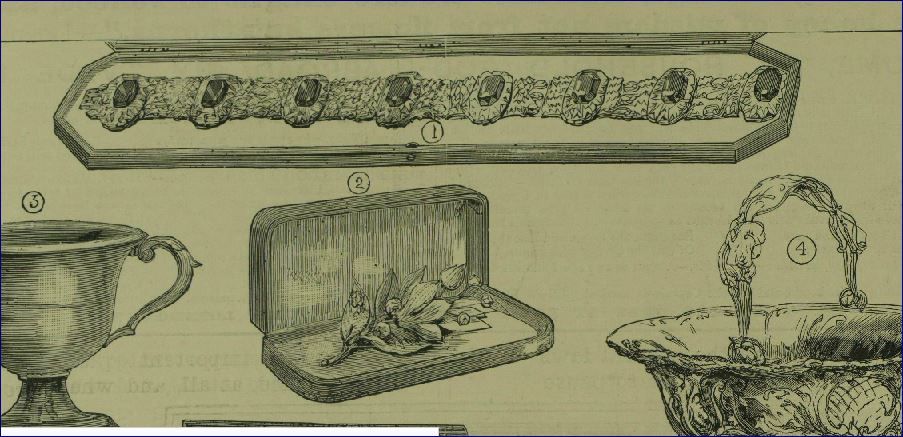 When I initially proved that the sapphire elements from the necklace were used in the tiara Queen Alexandra wore to her daughter, Princess Louise's wedding many were initially sceptical.
Queen Alexandra in 1889 at the wedding of her daughter, Princess Louise. The tiara has the sapphire elements from the necklace given to her in 1888.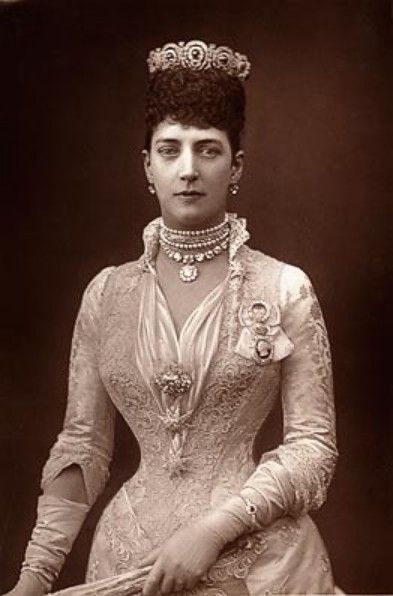 There was no mention of a tiara from the Emperor/Czar/Tsar among the silver wedding gifts. Nor have I found such a reference later.
To my way of thinking it is possible that either Edward VII or Queen Alexandra might have commissioned the tiara to take the sapphire elements. Edward VII, as Prince of Wales, was a wealthy man who could well afford to commission the diamond segments of the tiara. Perhaps, even Queen Alexandra would have afforded such a jewel.
We know from Vincent Meylan's research published in
Christie's. The jewellery archives revealed
that, when the tiara, complete with amethyst elements, was auctioned, the auction notes stated, "The above lot was presented to Queen Alexandra by the Czar of Russia from whom it was bequeathed to HRH the Duchess of Fife."
My questions would be --
Precisely what did the Emperor give to Queen Alexandra? The complete tiara? Or just the amethysts? Which Emperor are we talking about?
Unless we have access to Queen Alexandra's jewel inventories or her now destroyed correspondence, I cannot see a way to say which of the two possibilities is correct.
I tend to think that perhaps the Emperor gave her only the amethysts -- but??
My reason for thinking the latter is that I have never found a reference to Queen Alexandra wearing amethysts (and in particular an amethyst tiara) prior to the wedding of Princess Alice of Athlone in 1904.
Prior to that, there are a number of references to the Queen wearing a sapphire tiara.
From 1904 there are references to the amethysts, and press comments about how Alexandra favoured amethysts.
While I cannot say that I have read every report available (so I cannot be 100% sure), it seems to me that Queen Alexandra didn't have the amethysts for the tiara prior to the time she became Queen and certainly not in 1871 at the time of the Waverley Ball.
I know that there are limitations in being only able to work with media reports, but I suspect that, if Queen Alexandra had the amethysts earlier, there would be some earlier references in the press.
The other thing which I think may be relevant is that giving amethysts as a gift was a characteristic of Nicholas II rather than his father, Alexander III.
Perhaps Nicholas gave Alexandra the amethysts, which she then used in the existing tiara -- that is one possible theory. How I wish we could access the Queen's jewel inventory!