Thanks Eiriksn and Knightship.
This cannot possibly be the gift from the Ladies of Hampshire and the Isle of Wight which I posted about in 2019
https://mb.boardhost.com/historyroyaljewels/msg/1565817537.html
Apart from the fact that, as Knightship said, it doesn't match the press descriptions from 1863. The salient part of the reports is that it has a cross in the centre which was composed of one large ruby and 4 brilliants, the cross being supported on either side by the county rose.
The bracelet from the photos I posted.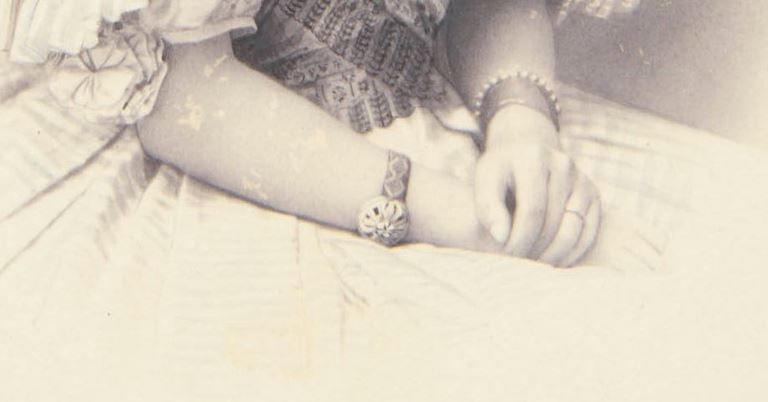 More significant, however, is the date when the photos were taken:
May 1862
.
The Ladies of Hampshire did not present their gift until
28 June 1863
.
Apart from the dating of Mary 1862 supplied by the Royal Collection for the photos, in them Queen Alexandra is referred to as Princess of Denmark, indicating that this was prior to her marriage. The photo below also has the year.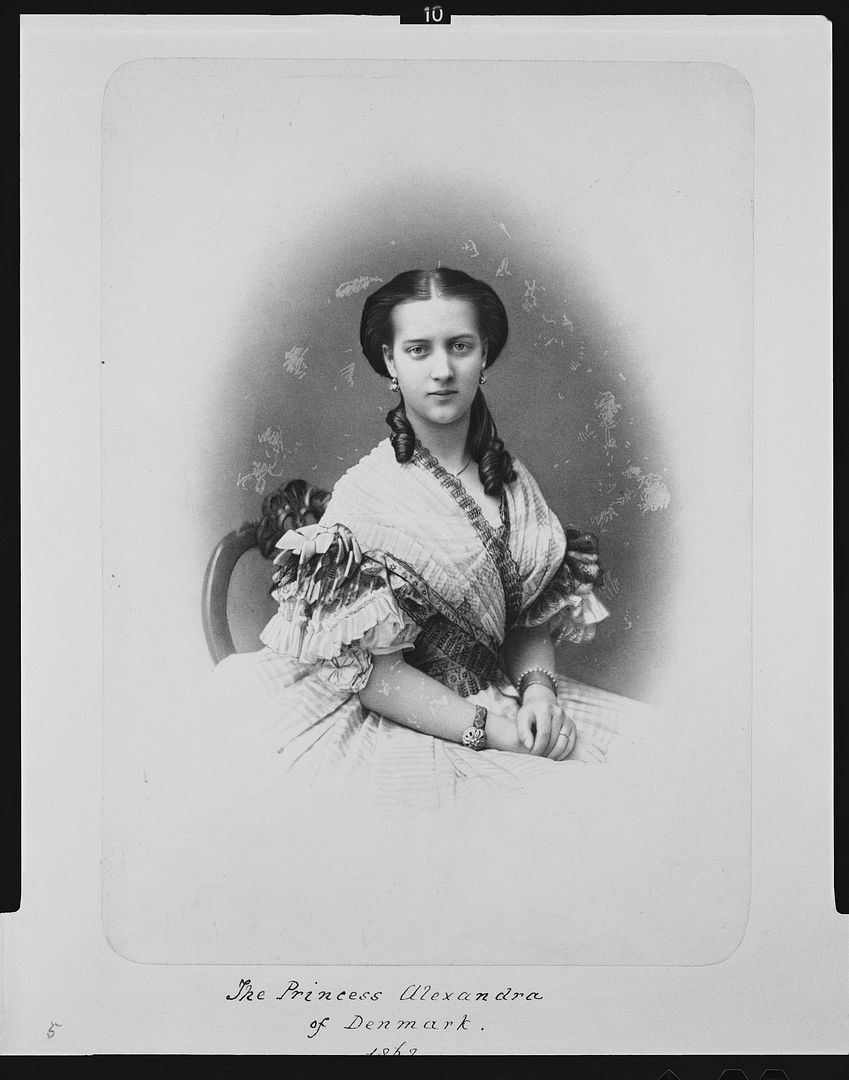 The photos from this sitting were taken in Copenhagen in May 1862 by a Danish photographer Georg Emil Hansen. The Royal Collection site notes that one of the photos came from Queen Alexandra's albums; the other was acquired by Queen Victoria.
The National Portrait gallery, UK has two lithographs made from photos in this series. They were based on these photos and were
published in the UK by Henry Graves & Co in December 1862
. The lithographs are endorsed with the comment that the original photo came from the collection of "Prince Christian", Alexandra's father.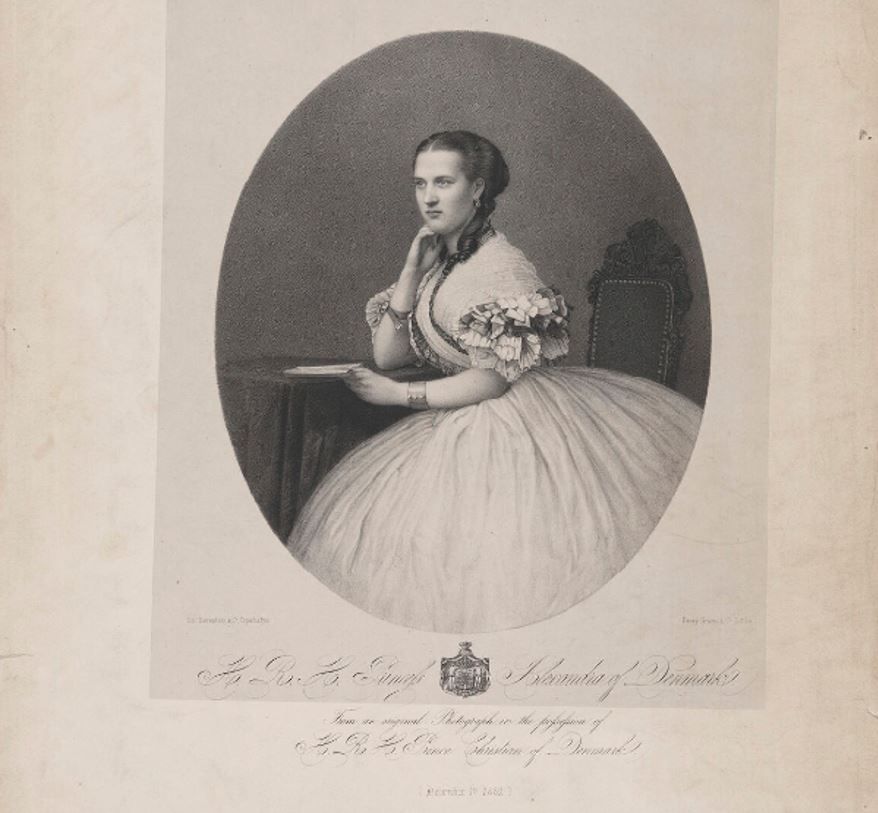 The inscription on the bottom slightly enlarged.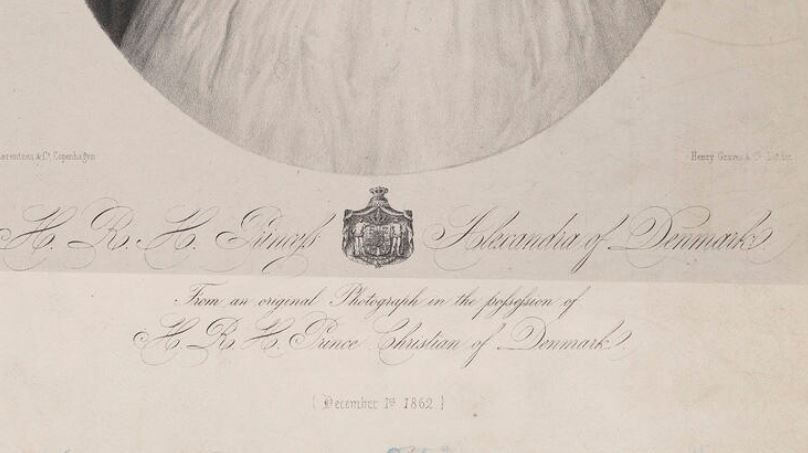 Apart from the fact that the bracelet cannot possibly be the gift of the Ladies of Hampshire, I am now even more convinced that this is a brooch pinned onto a heavy, embroidered ribbon. When I looked more carefully at the image, I realised that the brooch is pinned slightly off centre.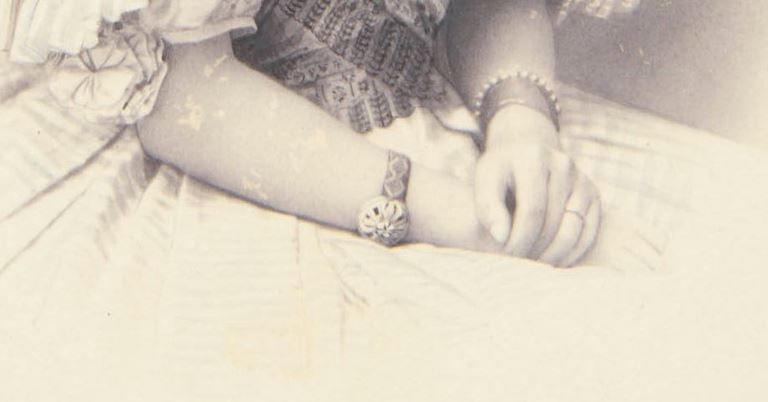 It also seems to me that what can be seen on the back of Alexandra's arm is ribbon where threads have been pulled to make a fringe. If this was a gold fringe, the weight of the metal would make the individual elements fall downwards against each other.